Online real estate agents have been increasing in numbers over the last few years. It's not only because agents are trying to cut the costs associated with having a bricks and motar premises. The advent of mobile technology – phones, PDAs, laptops – and Internet listings can replace and enhance the scope of the old 'shop front' window.
While some believe you can't put on price on having a front door a consumer can walk through, others argue there's just no pressing need for a physical office any more.
The virtual or online office is the logical extension of working from home. But what about an online real estate agency that is being franchised?
Larry Whited launched WebMLS.net in the US in 2003 as a full-service, low-cost, real estate brokerage company, operating online.
Larry had come up with the idea having worked as a Re/Max agent in Cincinnati, Ohio. He realised that like most of his colleagues he was rarely in the office, as he was either working from home or visiting clients.
WebMLS.net had few overheads, and offered commissions as low as 2%, with all the usual features of a brokerage. By the end of the year, Larry had attracted 26 agents to join the company.
As he writes on his website:
"The key to the success of the business is that all parties involved – clients, agents, and the broker – all benefit from the financial arrangement, which is predicated on a low cost, highly efficient operation. Agents and brokers are free to run their business and charge commission they and their clients agree on using the following chart as a starting point, not a dictate.
After closing, agents retain all commissions, less $300 ($400 starting 2009) paid to WebMLS.net. This enables the agent to offer the same service at a lower price than other agents, which generates more property listings, the key to success for any agent."
Larry's virtual real estate office idea is not unique. Many agents all over the world work from home, or are giving up their real offices and embracing the virtual.
But what might put him ahead of the game is that after 6 years developing the virtual realtor concept, he's back with a new project – a virtual office franchise model called maxUnet.com, which offers the same low commissions and savings on a larger scale. He's aiming to use maxUnet.com as the franchisor, to grow the concept of the virtual brokerage.




Initial costs are said to be around US$10,000. Agents who join are given software, training, and other facilities, and will have to contribute to advertising and branding funds.
According an interview in Inman News, Larry hopes to launch the first franchise in January.
Once you've thought about what you want to advertise and you've created an eye-catching banner that best represents it, where and how do you place the ad to get the best response?
Banner advertising is a really effective means of promoting estate agent's services, especially when used on portal websites. 'Advertise where the people are looking' is exactly what's at play in this scenario. The ad becomes even more effective when placed at a granular rather than generic level such as the home page. Placing banners on the search results pages of neighbourhoods where you operate is a key way to attract potential buyers and sellers in your market. Your message should speak directly to the people looking for property in your area and should resonate loudly with those looking to sell. So how do you get your ads up there?
There's 3 ways of posting banner ads on a site:
Work with other advertisers in an 'exchange program' where you agree to display their ad on your site if they display yours;
Pay a publisher site directly to display your ad; and
Pay an organisation, usually a banner network, to display the banner on a number of publisher's sites.
These three arrangements take many forms and will suit particular advertisers at different times. If you don't have a whole lot of money to launch a traditional ad campaign you may opt for the 'Exchange' idea. You might choose to form your own network of sites with whom you share a particular affinity (perhaps location) and then agree to swap banner ads. This can be a very effective and cheap way of advertising to a localised market - perfect for real estate agents trying to win listings.
If you want to get your ad out there on a lot of sites and for little money you might join a formal Exchange Program. Typically you'll be asked to post 2 ads on your site for every 1 ad of yours placed elsewhere in the network. This option can get you great coverage for no money but you do give up a lot of control over exactly where your ad is displayed. Most programs will say they try and match advertisers to sites intelligently but occasionally advertisers are unhappy with where their banners end up.
If you're happy to pay to have your banner published, you can either approach the particular website you're interested in directly, or you may employ an advertising agenct to handle it for you. If you have a very niche product you may like to go direct to a website to get a better deal. You will typically buy an advertising package on a CPM basis - paying per thousand impressions. This is how most property portals operate their banner advertising packages for member agents.
If you use an agency, they will do most of the work for you and offer many advantages to doing it yourself. From creating the banner to selecting the appropriate sites and negotiating the best price and position for your ad, they will usually get a better deal than you can by yourself because they buy impressions in bulk. One drawback though is that agencies often only deal with accounts of particular size, so if you are a small business you may need to shop around to find an appropriate agency to work with.
Paying a banner ad network is a great way to get your ad onto multiple sites quickly without having to spend time negotiating with each publisher. A banner ad network is basically a broker between the advertiser and the publisher and takes care of all the placement and tracking of your ads; they either work on an impression basis (such as ) or on click-throughs (such as BannerSpace). As with banner exchange programs however, the advertiser relinquishes control over where the ad is placed.
Having great banner creative with a clear message is very important, but it's no good if noone sees it. Targeted placement is imperative to your banner advertising achieving success. If you wish to place banner ads on a portal website you should contact the site directly and find out about their advertising packages.
If you've spent any time surfing the net you're bound to have come across a multitude of advertisements. There's tickers and pop-ups and links, but no doubt you've noticed the most prevalent of them all, banners. Banners are one of the most popular forms of internet advertising, and advertising is one of the main sources of revenue for a website. So as a business owner, how can you best play your part in this revenue stream?
Banners are small rectangular ads that appear on all different sorts of websites and contain endless messages, but all have the same basic function - to get users to click on them so they are transported to the advertiser's website. They are a fantastic way of promoting your business or product/service to a targeted audience and are a comparatively cheap form of advertising to add to your mix. So how do you use banners effectively to promote your services?
First let's look first at the different types of banner ads and what makes a good one.
The Internet Advertising Bureau (IAB) has produced universal Ad Unit Guidelines for marketers, agencies and media companies, for use in planning and creating internet ads. The IAB has stipulated 8 banner ad sizes, the most common of which is 468×60 pixels and looks like this:



There is no universal file-size constraint however most sites will ask advertisers to keep the ads quite small, say about 18k, because they add to the time it takes a user to load a page and therfore should not be too large. It is wise to ensure you stay within the designated limits when producing your ad so browsers aren't turned off before they even see your message.
The content of banner ads varies enormously depending on what you're advertising and where the ad is placed. You may choose to have a simple static ad with limited graphics or you may use an animated .gif which means there'll be some movement in your ad via the use of a succession of images or text. The most fancy banner ads of all are the rich media ads which use very creative graphic and may contain video, audio or specialist programming. These ads will have larger file sizes and may contain interaction beyond a simple click-through.
Whilst banner ads are not difficult to construct, there are some key factors that your designer should take into account. The difference between a good (and effective) ad and a bad one can be subtle and sometimes difficult to pinpoint, but here are some basic guidelines to consider: 
Use simple messages rather than long complicated ones
Advertise one product or service - not your entire business - and have the ad link through to the relevant page on your website
Animation and movement attract attention better than static ads
Your graphics should be interesting and suggestive but not too obscure
Keep file size small
Place the ad on a page with relevant content so you are more likely to reach your target audience
Before you get too excited about having the fanciest ad on the web, you need to ensure you have a clear objective laid out for your advertising. Just as in newspaper or radio advertising, you need to be clear of the message you want to convey and the success factors you'll use to measure the effectiveness of the ad.
Typically you'll want your ad to achieve Click-throughs and Brand Awareness. Publishers hope that the user will click-through to their website and ultimately buy the product/service on offer. A click-through means the banner ad has delivered the advertiser a visitor that they may otherwise not have had and is a truly measurable success factor. Brand Awareness, where a visitor recalls the brand down the track and possibly makes a decision to purchase then, is harder to measure but is still considered a sucess factor.
Whilst there are several ways a banner ad can be successful, the typical measures advertisers will look at are:
Page Views (Page Impressions) - this is how many times a particular page is called from the server which is important to advertisers who place a banner on that page because it indicates how many visitors have possibly seen their ad.  This is a measure of exposure rather than brand awareness and is a typical way of selling ad space - cost per thousand impressions, or CPM.
Click-throughs - the number of people who click on the ad linking through to the advertiser's website. Ad space is often sold on a cost per click (CPC) basis.
Click-through rate (CTR) - this is the ratio of page views to clicks and is expressed as the percentage of total visitors to a page who clicked on the ad. CTR is often very low, say 1-2%.
Cost per sale - how much advertising money is spent on making one sale. This calculation will vary depending on the type of service or product.
Obviously different measures are more important than others to different advertisers, but all of these elements should be considered at some point in the ad buying and measurement process. They will affect the price that you pay for the ad space and will be the process by which you can evaluate your advertising campaign and possibly tweak it for better success.
So now you have a great ad and know how to measure its success, where are you going to put it and how? Read part 2 of Effective Banner Advertising for more information.
Agents are having to become more innovative in the ways in which they use imagery to market their properties online. Videos, online tours, panoramic photos – with the tight market and the competition online, everyone's getting in on the act and trying to make their listings stand out.
To get fantastic photos and footage you don't need to be an expert photographer, tech guru, or lug a video camera and film around with you. All you need is a wise investment in some select digital equipment, and some easy to use software.
There are some relatively easy ways to make photos and video work harder for you and there are loads of companies willing to lend a hand, in every region.
We've chosen just a few tech ideas that demonstrate the range of help available to assist you turn a few photos into a virtual tour, add a panorama shot of an amazing view, or zoom in on a home's best selling point.
Virtual Tours
No, you don't need video to make a virtual tour, just photos! TourFactory run all sorts of marketing packages but specialise in turning photo stills into moving footage. It's like a seriously advanced PowerPoint presentation.
TourFactory has recently announced "The Ultimate Tour: Elegant Series" will be available in the TourFactory Marketing Engine.
With a large emphasis on photos, TourFactory's new tour was designed to answer an overwhelming demand from consumers for a presentation that was more property-focused.
There are loads of other providers, and also other leading software providers such as Easypano who originated in China in 2001 and have since created literally thousands of online tours for estate agents.
Perfect Panorama Shots
To get a panorama shot you can fiddle with a fish eye lens, or painstakingly paste your sequence of individual photos together, or you can look for the camera that says it does it all. French company Giroptic claims to have broken new ground in panoramic digital photography and has the world patents to prove it.
Position the digital camera in the centre of the panoramic shot you want to take, and the one-click technology means a perfect panoramic 360° of the surroundings. Sounds too easy.
The 360° panorama can then be uploaded to the web and be turned into a flash-programming based virtual tour using the company's software.
Once you have uploaded your photograph, clicked and created your virtual tour you can then do with it whatever you like. You can download it and embed it on your website. You can link to it and show it on your website. You can download it and carry it with you in your laptop or PDA.
All you need to do it add the camera to your wishlist…
See it all in close up
The house you're trying to sell has amazingly detailed period features – how do you show it? The same way you'd see a close up of clothing, or the cover of a book you might buy from an online retailer.
RealBiz360 has introduced VuVista, already used by trulia.com, yahoo.com and oodle.com among others.
iVuZoom technology allows users to view a 360- or 180-degree panorama, stop the picture, then zoom in on precise details – parquetry flooring, fireplace carvings, kitchen cabinets, tiles, whatever! The technology allows streaming of very high resolution images to the Web over any bandwidth. That means you can upload and use the highest megapixel images available from today's digital cameras.
In a recent interview with RISmedia's Maria Paterson, the company's president and COO, Steve Marques, discussed why iVuZoom is such a breakthrough for agents and their clients, and how it might revolutionise the virtual tour business:
"VuVista's interactive virtual tours hold viewer interest up to five times longer than a typical virtual tour, thus generating more qualified leads for real estate agents. We have clocked it and the average consumer is spending 25-35 minutes using the zoom gallery on our virtual tours. They are zooming in on the stainless steel appliances, on the furniture, on the wood floor. This is about the consumer exploring the home. What we wanted to do, and what we achieved with our software, was to deliver a unique, informative viewing experience."
What's more, VuVista's reports tell you what room people are zooming in on the most and how long they're in that room. And it will soon be available in mobile format.



UK estate agents have been grumbling for some time about the high fees big name portals extract from them.
Henry Pryor has formed the Estate Agency Buying Group, to band together smaller estate agency firms in order to negotiate the best terms possible for 2009 with property portals.


US brokerage firm ziprealty.com has introduced community estimating technology to its website which allows users to say publicly what they think a property is worth.
There's no doubt it is going to be a controversial application, but also one with a lot of potential for revolutionalising the sales process and the experience of users browsing properties online. And it's probably a risk ziprealty.com feel able to take, having been ranked number 4 overall in terms of market share for US real estate websites in the latest November Hitwise figures
The technology is courtesy of a company called Realius, who describe it as a price prediction widget, with read-write capabilities and user state management, making it more complex than most data widgets you see on real estate websites. Realius were also responsible for real estate pricing games that hit the market earlier this year.
Basically, it will mean that any user can note what they think any ziprealty.com listing is worth, and any other user will be able to see what others have said the listing is worth. The technology makes the sales process quite transparent, showing what people really think a property's value is.
The application joins of host of others that ziprealty.com have embraced for their 1.3 million home listings. They were the first to include one-click driving directions to multiple homes, have extensive neighbourhood and school data, home sale data and satellite images of properties.
geekestateblog.com reminded us that Ziprealty launched a "Price Me Now" sub domain back in July, but the introduction of the Realius technology has taken it a step further, allowing anyone to predict a price, and linking it directly to the listing.
What is the potential of community pricing technology for other brokerage and real estate websites? Will property portals be keen to introduce a similar function?
The idea of online auctions entering the real estate world is frightening for most agents. Losing control of the crowd, not knowing if the bidders are real, unable to read the face of the one who's just been outbid. But with the world now shrinking in terms of purchasers and the fact that we advertise our properties globally could there be some validity in taking house auctions into the online sphere? There are already phone bidders so why not an online bidder?
The idea of attending a house auction frightens many and creates jitters for even the most experienced buyers. The desire to own that piece of real estate, coupled with time pressure and competition who you can look in the eye is enough to turn you off your Saturday coffee. Hence the proliferation of Buyer's Agents and steely-hearted uncles attending auctions these days!
Whilst property auctions are not the norm in every city they are abundant in some and you need to be able to tackle them if you want to make a purchase. So what if there was another way to buy a home at auction that meant no more eyeballing by competitive buyers and their agents? 
eBay introduced the online auction concept to the consumer world and has been accepted by millions as an efficient and safe way to make purchases. It's good for buyers and good for sellers and brings together both groups across the globe in a marketplace that otherwise wouldn't exist. However eBay auctions are still quite static (except in the dying minutes of some hotly contested items!) compared to a live property auction. But what if there was an actual auctioneer on your screen, counting out the dollars and raising the hammer? Well it's happening just like that in the car world on these sites www.turners.co.nz and www.pickles.com.au and in the thoroughbred horse industry here www.inglis.com.au. These sites run live auctions for their products to registered users.
In the property advertising world, realestate.com.au has trialed an online auction process with some of its premium advertising products. An online bidding platform was built using iLance software http://www.ilance.com/products and there were some good success factors which could possibly translate to the selling of real estate via a similar platform:
the product offered must be in high demand (this would be the case in most situations where an auction is the chosen method of sale)
the true value of products can be realised by creating competition from a wider audience (buyers from other parts of the country or world could actively participate) 
everyone is given a fair opportunity to purchase the product (removes any barriers to those who may not have been able attend physically)
'faceless' bidding removed embarrassment and frustration (attending auctions in person can be a high pressure environment where you feel compelled to spend more than you can afford or where you're embarrassed because you can't afford anymore)
Obviously when selling online advertising products you are dealing with an audience of people who generally understand and agree with the principles of this selling method. Whereas, when selling a home you may not always be selling to internet savvy consumers. So maybe there's a market for introducing the online auction into the physical auction so it's not one thing or the other but both? Still conduct the physical auction in the street or at the agent's premises but have a webcam set-up so you can stream the auction live and include your online bidders in the process.
Given the success of property portals and online advertising in the classifieds markets in recent years, and the enormous number of consumers who have taken to researching property online, I'd bet that there would be a market for online property auctions.
Who's game enough to try this first?
The Guild of Professional Estate Agents in the UK is developing a new software system called "Guild Connect". The aim is to introduce new income streams to their members.
The software system will encourage agents to source local services, beginning with conveyancers, for which they will obtain referral fees. Referrals will eventually be extended to cover other associated services such as HIPs, utilities, mortgages, and even surveys.
With agents increasingly feeling the pinch, the fees - although small - from any referrals could be a genuine boost. Asides from the referral fees, the Guild Connect network will no doubt have the added benefit of giving agents new connections with local businesses which could also develop into further leads for them.
Marcus Whewell, chief executive officer of The Guild, was quoted in The Negotiator as saying: "We have never really been highly active in the IT solutions space, but I think it is going to become increasingly important for our members."
Guild members will have the new Guild Connect service included in their £250 monthly membership fee.
The Negotiator reports that agents can use a templated invitation to invite providers to join their 'network' or database of local businesses. The network is reviewed every three months. An eBay style ranking system is under consideration to keep service standards high.
To begin with, conveyancers will be charged according to the number of agents they opt to work with. Monthly charges will start at £60 for one network and become more economical for joining several networks.
The Guild of Professional Estate Agents also runs the portal propertyplatform.co.uk.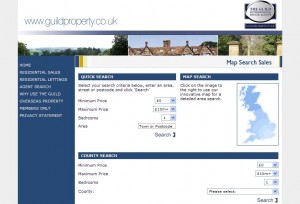 Once again we see the big guys being compared in a race to have the best and fastest products. Mapping is the product at the heart of this debate and Redfin, the Seattle based real estate site, as taken a stand against MS's Virtual Earth maps and changed to Google's offering.
In a post on the Redfin Corporate Blog, the company has named "speed, speed, speed [as the issue] that convinced us to switch. In our worst case scenario of 500 pushpins on the map in IE6, GMaps is 385% faster." If their calculations are correct, there's little to argue with there.
Maps are a fantastic tool and addition to any real estate related site but only if they work efficiently. If they don't, they're more of a frustration and hindrance than if they weren't there at all. In an industry that's all about location, the ability to view where a property is located in relation to other properties, transport, schools, highways, beaches etc is essential. For the user, it cuts out the guess work and for agents it reduces the number of questions asked and probably delivers better quality leads.
So which tools are the other property sites using? Here's a number of top US sites as rated by Hitwise, plus some top sites from other parts of the world:
1. Realtor.com (Virtual Earth)
2. Yahoo! Real Estate (Yahoo Maps)
3. Zillow.com (Virtual Earth)
4. ZipRealty (Virtual Earth)
5. Rent.com (Mapquest)
6. RE/MAX (Google Maps - Beta site also)
7. Homegain (Google Maps - through partnership with Homescape.com)
8. RealtyTrac (Virtual Earth)
9. Trulia.com (Google Maps)
10. REA Group sites (Google Maps)
11.Rightmove (Virtual Earth)
12. Immobilien Scout (Virtual Earth)
13. Seloger (Google Maps)
14. Globrix (Google Maps)
So it seems that it is a reasonably even race on the large portal sites but I wonder how often the owner's of these sites actually test the speed and compare the competition as Redfin has? As for individual agent sites, it is less clear who is the winner as most don't include any sort of mapping technology on their sites, unless they are powered by a portal partner.
Which mapping solution do you like to use?
So who else
It's been a big week for online marketing: Google Adwords has just announced it will be targeting mobile phones, starting with the Apple's iPhone and online marketing platform reply.com has announced the launch of the world's first marketplace for Enhanced Clicks.




Google Adwords going mobile is good news for everyone who uses this tool (read our article about how to use it here), but what exactly are reply.com's Enhanced Clicks?
reply.com is an online marketing company who want to make online advertising available to any business - no matter how big or small, so they are an interesting prospect for real estate agents to consider.
The company say Enhanced Clicks are a way for "advertisers to gain access to their target audience without the complexity of traditional online cost-per-click advertising, significantly simplifying the profitable acquisition of locally-targeted customers".
"Using the Reply.com Marketplace, there are no keywords to manage, no bid-management software to implement, and no need to outsource online customer acquisition to 3rd parties," says Reply.com chairman and CEO Payam Zamani. "Instead, there are controls that allow advertisers of any size to access consumers who are looking for a particular product or service, select desirable locations, throttle volume, and dynamically set their desired price-per-click. The system automatically delivers the specified traffic, based on the advertiser's budget."
"Until now, only the most sophisticated businesses-with significant investments in Internet marketing-have been able to access online consumers profitably." says Zamani. "We are on a mission to make Internet marketing available to businesses of any size by making it easy and profitable to generate locally-targeted and category-specific traffic."
Coinciding with the announcement on Tuesday 2 December RAIN Radio hosted a show with guests from Reply.com. You can listen to CEO Payam Zamani, CMO Brian Bowman, and Manager of Online Marketing, Tom Young, discuss reply.com and answer questions online.
Or you can have a look at the online slideshow for some more information from the reply.com team on how to get started, and what it is all about.