Advertising on portal websites is an important part of the advertising mix - browsers often start their property and information search there. However, having your own standalone website is an integral piece of the marketing puzzle. As well as selling your business services, it needs to offer readers desirable information and a reason to return repeatedly.
Here are propertyadguru.com's Top 10 Tips for Your Agency Website: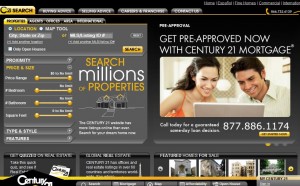 1. The site should utilise an easy to use Content Management System. Old, out of date content is one of the biggest criticisms by users of agency websites. A simple content management system accessed only by nominated employees should help ensure that the site remains fresh and updated.
2. Clear contact information is imperative. There's no point having a fabulous site that encourages people to work with you if they can't get hold of you! Make sure you have phone numbers and addresses (both postal and email) highly visible on your site. Sounds simple but it's amazing how it can be forgotten!
3. Search functionality should be easily accessible. Most users will be keen to see your property listings - whether they are there to buy or are looking to sell with you. Make the functionality simple, available from the homepage and in the sales/rentals/leases area and ensure it is working at all times!
4. Include information about your local area. Both buyers and sellers want to work with people who know their stuff. Being experts in an area helps build confidence. Provide stats and facts on property prices, properties you have recently sold, demographics, schools, dining, entertainment etc, to show you are both interested and knowledgeable in your area. For the most part you are selling a lifestyle as well as bricks and mortar.
5. Encourage people to join your database. Being able to contact interested parties is key. The bigger your network the more opportunities for your customers. Include an easy sign up form to join your mailing list - this could be for a regular newsletter and/or new properties that you list.
6. Great photos are enticing. The web is a visual medium. Don't bore people with lengthy diatribe and no pictures. Use great photos on all of your listings (this should be a given!) and use great local imagery throughout the rest of your site. Try not to use stock photos either - apart from being a bit cheesy, you don't want your site to look the same as others by using the same images.
7. Use a reputable designer up front. It's important that the basics of good web design are adhered to - easy navigation, correct page weights, browser compatibility etc. These are not things that are necessarily obvious to the uninitiated but if they're not right they are annoying for browsers. Get it right first time.
8. Mapping is a great addition - and almost a given now - for property websites. Knowing where the property is located is a huge part of buying a home. Make sure you choose a reputable mapping provider so there are fewer problems with up-time and accessibility.
9. Sold properties are a great testimonial. Use your recent successes as a way to promote future success. Your ability to sell properties in a similar area under similar conditions is the best testimonial a prospective seller can get. Use these wisely.
10. Search engine readiness. Again, this is not something that the viewer will be keenly aware of, but it is key to the success of your site in terms of visitation. There's no point having a great site if people can't find it! Make sure your designer has included all the necessary work in the background to help your website be found via search engines.
It's quite simple to make your agency website an enticing place to be - interesting and useful updated content, good photos and maps, easy to use navigation, great property listings and an easy way to communicate with your business. Make sure you work with a reputable designer who can build an easily editable site with all the correct background work to ensure your site is found ahead of your competitors on the search engines.
[image: the Century21 group website gets a huge amount of traffic]

Related posts: