bidprop.co.uk Online Auctions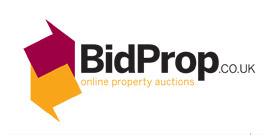 A new online property auction website is about to hit the UK.
bidprop.co.uk is an online property bidding website that works with estate agents, builders and administrators to accelerate the sale of residential properties in the Greater London area.

So what's it all about?
bidprop.co.uk says: "Our objective is to provide a good selection of investment opportunities and homes at discounted prices to property buyers in London and become an integral sales tool for property professionals looking to sell properties in an accelerated timeframe." It won't be accepting listings from private sellers.
The site targets what they call "motivated sellers". All properties offered on bidprop.co.uk are required to have discounted minimum reserve prices compared to the current asking price, and the company suggests accepting a minimum reserve price of 10 per cent below the current listed price.
bidprop.co.uk works with estate agents to jointly market the property using the main property portals and charges no additional sales commissions.
Agents currently receive three free listings, then pay 50 pounds for subsequent listings. bidprop.co.uk charges a Buyer´s Premium or Internet Transaction Fee of 1% on the purchase price of the property, to the buyer.
The company also offers to manage viewings for a sales fee of 0.5 percent, and for additional fees will provide HIPs, photos and floor plans and other services.
The website is currently in beta and due to launch on 1 September 2009.
propertyadguru.com spoke to Samuel Wagner, creator of bidprop.co.uk, who said:
"I have currently just started process of approaching professional sellers in the last week (insolvency practitioners, builders, estate agents, building societies) in order to source properties for the public launch, which is set for 1 September. The feedback has been very positive from the limited number of people I have approached, I have adopted more of networking approach to sourcing and finding properties, the sales efforts/campaign and PR should really kick off in the coming month."
Samuel is the brains behind the self-funded website although there has been some interest from cede investors. So how did it come about?
"Having done some residential development myself during the last two years, I have been attending many auctions, and found the process somewhat intimidating and inconvenient (spending half day in an auction room when only bidding on one unit and also the rigid viewing schedule)", he says.
"I thought that an online approach will be more convenient for bidders, and my concept also to some extent provides sellers and agents with an alternative (to the traditional auctions) in instances where agents can't sell within the timeframe required and can then easily use BidProp as sales channel to accelerate the sale, the only prerequisite is that the reserve price is competitive and attractive as I don't want to become another marketing channel /portal. The idea is similar to what some American companies have developed and has a proven track record in the US".
Although the UK has not typically had a strong history of auctions (unlike other markets such as Australia) they have grown in popularity over the past few years. Samuel quotes Allsop research which shows that auctions have now grown to 2% of total sales, from 1.28% in 2000.
bidprop.co.uk is not the only player in the UK online auction market. It will face competition from housebid21.com which launched late last year. Several US sites already lead the way in this growing area, which has been popular for some time in the States.
Related posts:
Homebuyers Look Online for Open Houses US property search engine trulia.com is reporting that US homebuyers...
getanoffer.co.uk Aims for "Serious Buyers" getanoffer.co.uk mainly targets private sellers, but is also open to...
Online Blacklist of UK Agents UK estate agents who are known to authorities, having been...
Related posts brought to you by Yet Another Related Posts Plugin.