US based relationship marketing website announcemymove.com has launched an interface with social network utility, Facebook. Clients who use the announcements on announcemymove.com can now choose to share these announcements on their Facebook wall.
Read more


Google Street View has expanded with launches in the UK and The Netherlands last week and more cities covered in Spain, France and Italy.
Read more



We've talked before about how real estate agents can use Twitter as part of their marketing and communications plan.
But now we thought it was time to look at what the future might hold for Twitter, and how agents can get the most out of it.
Read more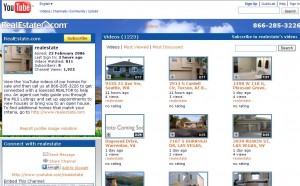 US brokerage and property portal realestate.com has loaded virtual tours of all of its agents' listings to a dedicated YouTube channel.
Read more
You can now follow PropertyAdGuru on Twitter. You will receive regular snippets of news and views as they happen around the world. All you have to do is go to twitter.com/PropertyAdGuru and sign up as a follower of PropertyAdGuru.
You can also follow PropertyAdGuru's sister site, PropertyPortalWatch.com, by subscribing to its twitter feed at twitter.com/portalwatch.
If you're not already on Twitter read propertyadguru.com's Top 10 Tips for Real Estate Agents Using Twitter or our article To Tweet or Not to Tweet.
Last week we reported on the latest news in online video for real estate agents. This week we can tell you it's not a news story that's going to go away anytime soon. In fact, it's one you probably need to pay close attention to.
Read more



In what can be seen as both a reflection of the current economic climate and the growing popularity of blogging in the property industry, foreclosure.com have released a listings plugin for agents and brokers using WordPress.
Read more


Companies and organisations are finally coming to terms with the reality that they need to take social media seriously. So seriously in fact that the National Association of Realtors in the US (NAR) have advertised for and, after a lengthy search, appointed a social media manager.
The job has gone to Todd Carpenter.
Todd is the founder of Bizomi Consulting LLC, and mariah.com, a web 2.0 network of real estate and mortgage industry blogs, tools, and web sites including lenderama, REMBEX, and Denver Modern Homes. According his bio on the website's blog, Todd has worked in the real estate and mortgage industry since 1992. His experience includes service and sales in retail mortgage, wholesale lending, and internet marketing solutions.
More recently he's worked as a new media consultant helping real estate and mortgage professionals use effective and affordable new media tools to market themselves.
Todd will leave his independent businesses behind and lead the effort to help NAR's staff and volunteer leaders engage with members and others in social media.
There has been much speculation over who would be appointed. Revealing the long-awaited news, Hilary Marsh at NAR said:
"We loved Todd's ideas, his easygoing manner, his reputation and how knowledgeable he is about social media. We also really valued his relationships with so many REALTORS® who are using blogs, Twitter, Facebook, LinkedIn, and other social media channels to connect effectively with one another and with potential clients and customers."
The appointment is a true indication of the value and potential of social media for the property industry and has the property blogosphere in a spin.
We've talked here about blogging techniques and also vlogging, but I wanted to explore a little further, how you can make blogging work for you as a lead generation tool.
Read more
Blogging is a fantastic way to get your opinion out there and get connected. Many agents are active bloggers and have become well known in their markets because of it; many are deriving great revenue streams as a result of the connections made through blogging. Some agents however, have no idea how to start or how to write a blog.
Here are propertyadguru.com's Top 10 Tips for Writing a Blog. Read more