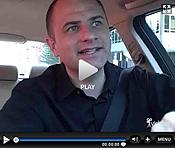 We've talked here before about the use of video in advertising properties and whether it's worth the time and money spent. Well I've recently come across a much more interesting example of how video can be used in real estate marketing - one that I think definitely has legs in terms of adding value to consumers as well as promoting an agency business.
Vancouver agent, Ian Watt, is posting vlogs (video blogs) to his site ianwatt.ca . They are unedited, opinionated, snippets of information delivered by Ian, videod whilst driving around Vancouver in his car. They are close up, personal and candid, providing great insight into the man, the professional and the market. He touches on hot topics in real estate and provides advice to would-be customers (as well as infuriating critics!)
Content aside, what I love about these vlogs, is that Ian has thought beyond the bounds of standard industry marketing practise and has created something memorable using up-to-date technology. He has taken the blog to the next level and is providing advice, opinions and information on his marketplace in a more personal fashion. Once you've seen these vlogs, regardless of whether you like him or not, you won't forget the name Ian Watt, that's for sure.
It will be interesting to see if others are brave enough to put themselves out there and do something similar.
Watch Ian vlog-ing below:

Ubertor Versus a Custom Realtor Website Site from Ian Watt Vancouver Condo on Vimeo.

Related posts: