Social media in general, and Facebook in particular, is the most valuable source for loyal website traffic according to recent studies.
Read more



propertyadguru.com welcomes the second in a series of guest posts from Australian real estate expert Glenn Batten about SEO or "Search Engine Optimisation" for real estate.
Read more


The California Association of Realtors has released the results of its annual Use of Technology Survey, revealing LinkedIn, YouTube and MySpace as the three most popular social networking websites for Realtors.
Read more



We've recently discussed the idea that the main goal of participating in social media is to create a sense of trust in your audience. The problem is, measuring how well you've cultivated that trust isn't all that easy. Or is it?
Read more


US commercial real estate brokerage firm Sperry Van Ness has announced plans for a 100 percent adoption rate of social media by the second quarter of 2010.
Read more



For those readers keen on marketing their listings via online video, a new iPhone application has just been released that could make the process that much easier.
WellcomeMat, a website that could be described as the YouTube of real estate video, is now offering an iPhone application it claims will make it "easier to post a video for a property that it is to post photos".
Read more



New figures from Nielsen show that, in the US at least, Internet users have tripled the amount of time they spend on social networking websites such as Facebook and MySpace over the past year. With 300 million active users at last count it seems clear - as we've discussed before - that Facebook is a powerful medium for connecting with customers.
But, as one mashable.com contributor recently pointed out, business success in the social media era can be challenging, as customers look for transparency, availability and genuine interaction rather than sales pitches.
One Facebook tool that could help real estate agents with this challenge, recently featured on inman.com, is CenterStage. This subscription based tool aims to help agents showcase their listings as well as their sold properties.
Through CenterStage, Facebook users add a "My Real Estate" tab to their profile and upload images and listings information. The idea is that through sharing these listings with your Facebook friends, and your friends passing listings on to their friends, your properties will gain exposure throughout the social network.
As Gahlord Dewald points out in his inman.com review, "spamming" Facebook friends with listings information can easily backfire. But CenterStage seems unconcerned, stating its aim is to keep you "top of mind among your friends, family, social and business networks". Luckily for those who aren't sure whether mixing business with Facebook is the best strategy, CenterStage offers a free 30-day trial.



Free web based service HootSuite is a Twitter organiser geared towards those who use the micro-blogging website in a professional capacity. It has been getting some attention from real estate business bloggers of late, and has recently released a number of new features that could make it worth trying out.
HootSuite's flexible layout allows you to organise your Twitter streams into tabs and columns. You can track when certain keywords are mentioned, create groups of friends or followers, and ask HootSuite to check an RSS feed (from your blog, for example) and tweet out new posts.
HootSuite also allows you to tweet from multiple Twitter accounts and to give certain people access to certain accounts. But perhaps the most useful functions for those who use Twitter with their business in mind are the options to embed a customised column that displays a Twitter stream into a website, and to track the performance of your tweets through HootSuite's statistics.
This video tour outlines the service in detail:
This month, HootSuite has unveiled a few new functions. Pictures and files can now be uploaded and their statistics tracked through HootSuite's analytics. And, with a view to increasing the viral activity of those images and files, HootSuite has just included an option that allows users to comment on them and to attach other photos or documents to their comments.
HootSuite has a list of users that includes companies such as Disney, Fox and Dell. Discovery Channel marketing communications team member Grace Suriel recently told mashable.com about how she uses the service to track what people are saying about their programs. "It's great seeing how many people click on the links I tweet," Suriel said. "When something is a hit, it's very exciting. When a link doesn't perform as well, I see it as a challenge from @AnimalPlanet's followers to point them to content that is more interesting, engaging and current."


A new iPhone app, just launched at the DEMO 2009 Conference on emerging technologies, is aiming to change the simple act of making a phone call.
Read more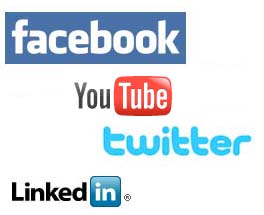 Keeping up with the ever-changing world of social media isn't always easy. In just the last few days, Facebook passed the 300 million user mark, Twitter released a new "retweet" API along with tweaks to its design, and YouTube introduced a "trending topics" feature. And there's no sign that any of these online social giants, or the many services that complement and compete with them, are planning to slacken the pace.
Of course, some question whether all these updates, followers and comments are really worthwhile, particularly for those who want to use social media to promote their business. But few are willing to miss out on the opportunity social media presents to connect directly with potential clients.
Read more