Add Walk Scores to Your Listings
When homehunters are seeking a new property they want to know what's nearby - shops, schools, childcare, restaurants and more. They also want to know how long it takes to get there.
Trying to answer these questions are a host of neighbourhood applications you can potentially add to your user's home search experience. One of them is Walk Score.

Walk Score is a project by Front Seat who describe themselves as "a civic software company and incubator". They specialise in software that connects people to the places we live, the resources we consume, and our communities.
Earlier this year at Inman Real Estate Connect in New York it was revealed that a Walk Score rating system was being added to over 85 million property listings, across several portals and real estate search engines in the US.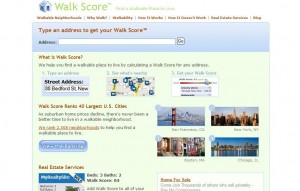 What is a property's walkability?
Walk Score promotes the car free lifestyle by providing a personalised walkability rating for any address. Within one month of the programme's July 2007 launch, over 1 million US addresses were scored.
It works by calculating the walkability of an address by locating nearby stores, restaurants, schools, parks, etc. This produces a ranking out of 100, ranging from 0-24 which is a rather dire 'car dependent' location to a magnificent 90-100, which is classed as a 'Walkers' Paradise'.
The company says: "Homebuyers rank proximity to daily conveniences as one of the two most important factors in choosing a neighborhood—more important than schools and property taxes".
The announcement revealed some new big name partnerships for Walk Score with ZipRealty.com, Postlets.com, REcolorado.com, ColoProperty.com, and others, who will now show Walk Score on all their listings using Walk Score Real Estate Services. Walk Score has already gone live with Zillow.com.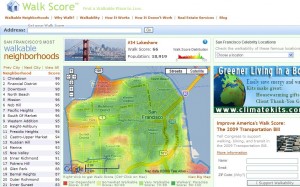 Transit Time Maps
Walk Score's parent company, Front Seat, has just added new Transit Time Maps, which will allow users to search a location's transit time. This in turn opens the door for them to develop property search via commuting time.
As the company writes on its blog:
"Homes near transit are some of the only properties that have appreciated in value over the last year—yet other than estately.com, we haven't found any real estate sites that let you find homes near transit.
Yesterday we took a baby step towards helping people find walkable, transit-friendly homes with the release of our Transit Time Maps. Eventually, real estate sites will be able to use this technology for searches like, 'Find me homes within a 30 minute transit commute from work'."
The new functionality operates using Graphserver, an open source multi-modal trip planner (like Google Transit) and is currently only available for the Seattle, Portland and San Francisco areas, with more to come. Anyone can contribute to Graphserver and it's free to use.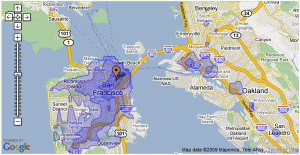 Add Walk Score to your Website
Walk Score Real Estate Services make it easy to integrate Walk Score into your real estate listings. Real estate websites can add a Walk Score API or a Walk Score Tile, by following the information on the company's website.
The economy, health and the environment are top of most people's list of concerns, and what better way to save money while improving your health and the environment than by walking?
Related posts:
Related posts brought to you by Yet Another Related Posts Plugin.