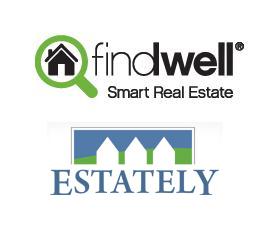 One of the first big announcements to come out of the Inman Real Estate Connect conference in San Francisco this week is that Seattle-based online real estate broker findwell.com has launched a major upgrade to its real estate search website which incorporates real estate search technology from another Seattle-based property website estately.com.

New features for findwell.com include the ability to search for homes based on local transit stops and "walkability" to local amenities, virtual neighborhood tours with Google Street Views and local school and neighborhood information.
In a statement about the deal, findwell.com CEO, Kevin Lisota, said:
"Home buyers want a real estate website that is loaded with data about neighborhoods and homes, but is also simple and easy-to-use. Estately provides that and more. We think that Estately is one of the top two real estate search sites in Seattle. Their search website is way better than anything the big brokerages provide at the moment."
Estately CEO, Galen Ward, continued:
"We are excited about the future potential of our partnership with findwell.com. It seems like a natural fit by allowing both companies to do what they do best. findwell.com can continue to perfect their innovative, low-cost real estate brokerage services while Estately can continue to focus on developing the best home search technology."
New findwell.com search features include:
My findwell - Save personalized lists of properties, get automatic updates for new listings, and easily share your favorites and searches with friends. Friends can also comment on your listings.
Transit Search - Limit your home search to homes that are near light rail and bus stops.
Walk Score(TM) Search - Find a walkable place to live by searching for homes that are close to nearby stores, restaurants, schools and parks.
Hide a Home - Hide listings from your searches that you no longer want to include.
Neighborhood Search - Find homes in a specific neighborhood simply by typing the name of the neighborhood.
Free Text Search - Looking for a "fixer" or something "funky"? Simply type in those words to quickly sift through listings.
Google Street View - View images of the surrounding neighborhood online.
School Details - Quickly view nearby schools and school ratings.
Listing History - Look for past price and status changes to identify seller motivation.
Previous Sales - Find out when a home last sold and what the sale price was.
The two companies claim that the new search partnership demonstrates the continued momentum of estately.com in the real estate marketplace. After expanding over the previous 12 months to new markets such as Portland, San Francisco, Los Angeles, San Diego, Chicago, Long Island and most recently Atlanta, traffic to estately.com is said to be up 500% - and up 20% month over month with transactions believed to be increasing at an even faster rate.
findwell.com's Lisota hinted at the possibility of expansion, saying: "With estately.com already providing real estate search in many major cities, future expansion for our brokerage services will be that much easier".
estately.com currently provides real estate search services in Washington, California, Georgia, Illinois, New York, and Oregon.

No related posts.