Google Maps' Australian team have just announced another round of upgrades to the Google Maps real estate search, this time focusing on keyword use and listing information.

The Google Maps blog explains that the introduction of new search technology will bring up listing results for searches that use phrases such as "real estate," "home for sale Sydney" or "homes for rent near Perth".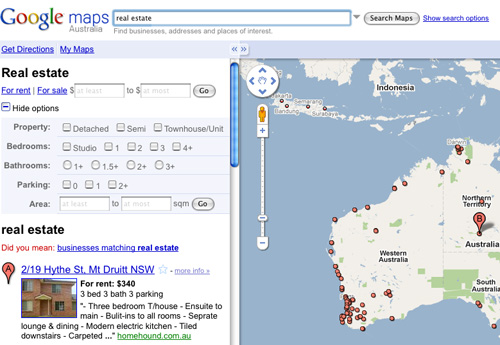 This new search option comes after Google Maps added a real estate option to the "more" menu, allowing users to view a layer displaying listings, earlier this month.
Google Maps has also added in Place Pages for each listing:
This means that clicking the "more info" link next to a listing takes users to what is described as "a faster, easier-to-read page that gives you all of the information we have about a listing: photos, inspection times, videos, details, a Street View preview and nearby public transit information if available, allowing you to quickly find the listing you want and click through to the sources of the listing."
The Google Maps Australia blog post does not say whether the new search functionality and Place Page option have been added to all locations, and the official Google Earth and Maps blog is currently quiet on the subject, however a search for "real estate" on maps.google.com and maps.google.co.uk presents the same listing results as on maps.google.com.au.

Related posts: