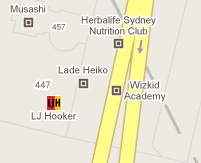 Over the past few months, it's become clear that Google Maps isn't just about directions. With the release of Place Pages, the Favourite Places program, and a set of tools aimed specifically at real estate agents, we now know Google Maps wants to become as important to businesses as it is to people figuring out how to get from A to B.

So it should come as no surprise that Google Maps is now giving businesses the option of adding their logo to their location, making it visible to users as they zoom in. Of course, Australian real estate agency chain and Google Maps partner LJ Hooker is on board.
But the scheme isn't as straightforward as it might first appear. According to a report from The Sydney Morning Herald, this isn't just a matter of a business paying to see their logo on Google Maps. Google must first determine if the business is "relevant" to Maps users, and the logo will only remain on Maps if enough people are clicking on it for more information.
"[J]ust because a particular business has paid for their location, it doesn't mean it will necessarily show," Google product manager Matt Leske told digital-media.net.au. "If a bank wants to put a logo on all its ATM locations, those inside a shopping centre won't show because the shopping centre is more prominent on the Map. Though a brand will only be charged for the logos displayed."
So far, the logos are only available in Australia and New Zealand, but digital-media.net.au reports there are plans to offer the option in other markets in future.

Related posts: