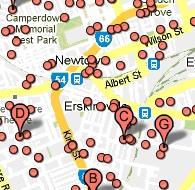 "We are no more in the real estate business than we are in the cafe or the museum business." That's the contention of Carter Maslan, Google's director of product management, who attended the Inman News Real Estate Connect conference in San Francisco last week.

As inman.com's Matt Carter reports, Maslan is keen to put the emphasis on Google as a search tool. "What we are doing in real estate is really [no different than] what we are doing in [other areas of] local search," Maslan is quoted as saying.
Google's emphasis may be on search rather than real estate, but that hasn't stopped people speculating on how the search giant could impact on established real estate websites. As we've just reported on propertyportalwatch.com, one financial analyst recently went so far as to downgrade their recommendation on the REA Group - owner of Australian market leading portal realestate.com.au - to a "sell" based on the potential impact of Google.
At the same time, much of the initial panic sparked by Google's entry into real estate search seems to have been replaced with a "watch and wait" strategy. As our wrap-up from the Inman Connect conference shows, none of the property portal owners in attendance have seen any decrease in traffic due to Google Maps' real estate search, but most are still aware that the company could eventually have a big impact on online real estate search.
But at least one industry commentator thinks that day is still a long way off. homethinking.com founder Niki Scevak recently wrote that "Google will never be successful in real estate until they recognise that maps are a poor cousin to other types of user interface designs for real estate."
Clearly, there are plenty of views on how Google's real estate search will change the industry, and we'd like to hear your take as well. How have you seen real estate listings on Google Maps change things in your own market?

Related posts: