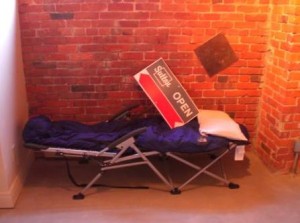 It seems Canada is leading the way with innovative agents grabbing onto any new technology they can find in order to sell properties and offer their knowledge and services.
Gone are the days of just 'being there'. Not that long ago it used to be an advantage to say you were 'on the internet', or that you were 'on X portal' and that used to be enough to impress potential customers. But now that everyone is there (at least everyone who's worth doing business with) you need to do so much more to stand out amongst your competitors.
The issue here is two-fold: 1) you need to do things online that set you apart from your competitors; 2) you need to promote the fact that you are doing something different that sets you apart.
So firstly, what can you do on portals to help your brand and your listings 'pop'?
Brand: take 'ownership' of your suburb or listing area by purchasing display advertising in the search results pages. Make your brand and company name the dominant feature on the page when a potential buyer or seller comes to look.
Brand: take out a priority position in the Agent Directory pages if possible. This is particularly important if the listing is alphabetical and your company name doesn't start with an A! You need to make sure you are top of the list when people are searching for an agent.
Brand: investigate any other sponsorship opportunities available on your portal. There might be some relevant editorial pages or some Buyer or Seller tools that the portal offers that you could sponsor by putting your name and brand on them.
All of these options help to keep your name in front of potential customers, particularly sellers, at relevant touch-points throughout their property research process.
Listings: ensure you are on the top advertising package available. Most portals offer a premium option that allows for better positioning for your properties so they attract buyer's eyes more readily.
Listings: there are often special positions available for purchase that allows your property to appear at the top of a search list or in some other prominent spot on the page. These are worth purchasing, particularly for your highly desirable or interesting properties, as they really encourage browsers to view your property above all others and in the meantime also view your brand. In many cases sellers will be happy to pay extra for the extra exposure.
Listings: take advantage, where practical, of using all the tools available to you when listing your property on the portal. Things such as virtual tours, maps, video, editorial links and as many photos as possible. It goes without saying that you should fill in all the spaces for property features and a great description. All of these 'additions' to your listing are highly desirable for buyers and will keep them on your listing for longer.  
So now that you have taken out all the premium advertising spots for both your listings and your brand, you need to really use this advantage by proactively promoting the fact to customers.
All of your listing materials should be updated with examples of the positions that your seller's properties can take on the portals. It should be clear how they will appear as opposed to the other listings and what the advantages of such positioning are. If possible you should provide case studies of premium vs standard listings in terms of views and email enquiries etc.  If you are in a vendor paid area this is particularly important, as you want your vendor to be clear about the choices available to them.
Your marketing materials should also be updated with screenshots of how your brand appears in the various display advertising spots you have purchased. It's important to show both buyers and sellers how you dominate your particular area but that you are not doing it for ego's sake! Rather, that you are committed to attracting the best buyers and properties and making as many perfect matches as possible.
When you are in a presentation scenario, trying to win business, you should be very clear about the things you are doing online to stand out from your competitors, especially in the case where you have advertising options that they do not. It's easy to say "I have better customer service" but it's very difficult to prove it. In the case of online advertising it is easy to prove that you have better positioning and are doing more to attract quality listings and buyers.
Be clear about the options for your sellers and be proud of the position your business is taking in terms of brand awareness. 
An extensive customer database, built by encouraging potential buyers to register their details with you, is an excellent tool for 3 reasons:
1. Listing

When going through the listing process you are able to tell sellers that before undertaking a huge marketing campaign the first port of call is to contact all those buyers you have on your register that may be interested in a property like theirs. 
If your register of buyers is more extensive - and up to date - than the competing agents then you have a competitive advantage.
State the fact that you can be in contact with these prospective purchasers by the end of the day if they list with you.
2. Keeping advertising costs down
If you are in a market where obtaining vendor paid advertising is difficult then having an extensive buyers list you can readily tap in to could see you sell property faster and at a lesser cost to your agency.
3. Buyers may be sellers too
Registering potential purchasers early enough may be beneficial in sourcing new listings. People often start to look around for a new property before putting their own home on the market.  Creating a relationship with them is your opportunity to impress early. See post "Buyers are Often Sellers Too"
How do I capture buyers for my register?

You can implement functionality on your website to encourage and capture interested buyers. Things such as newsletter sign-ups, competitions, property alerts. These will all help you to develop a relationship with potential customers and further communicate with them to ascertain their needs. You can allocate banner advertising for your suburb on a property portal to drive buyers to your site for registration.
Advertise in your window and any other media, and encourage registration when any contact is made with new people, whether by phone or at a property inspection or auction.
Develop and promote a Home Buyer's Guide to use as a lead generation tool and ensure that buyers are required to register their details before receiving a copy. You can promote this on your site and in all advertising and marketing.
There are multiple opportunities for getting people interested in what you do - the challenge is to capture their information and then use it wisely. Don't over-promise and under-deliver! If you commit to a weekly newsletter, don't miss your publishing date. If you promise to send out newly listed properties, make sure you do so. And ensure that you never EVER pass on their details to third parties or anyone who might spam them. Once you have customer's details you need to treat them like gold and keep them updated.
The greater the database the greater the opportunity to develop meaningful relationships with future customers.
Often agents tend to think of buyers and sellers as different segments of the market to target.  However, when you think about it, buyers are usually looking to upgrade or downgrade their property and therefore are sellers too.  The challenge is making sure all buyers are sold on the agency's sales abilities.