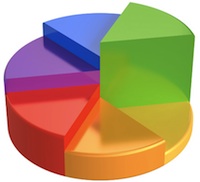 We all know that content is king on a great real estate website, but that content doesn't always have to come in the form of blog posts. Polls can be just as effective in engaging website visitors. Here are our tips for polls with punch:

1. Keep your question short. A single question that gets straight to the point is best when it comes to online polls - long, complex questions almost always mean fewer answers.
2. Take care with multiple choice. Some questions, such as the preference people have when it comes to social media, can be answered with five or six options. But other questions - "What do you expect from a real estate agent?", for example - need more room, and should be reserved for platforms such as blog comments or email surveys.
3. Use polls to understand your audience. Polls can be a great way to find out when your readers think they might be ready to sell, where they're planning to buy next, or what they're most confused about when it comes to real estate. All this information can be useful when it comes to refining your online marketing strategy.
4. Highlight the results. As well as telling you more about your readers, polls also give you new content you can use to keep your website fresh. A quick blog post highlighting the results - particularly if it provides a snapshot of the market - will always draw people in.
[Image: psdgraphics.com]
Related posts: