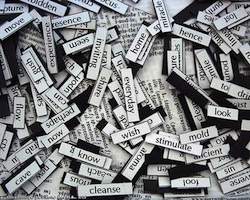 The word "content" is used so often these days that it's easy to let it wash over you without thinking about it what it really means. But the fact is, quality content is central to any successful online marketing strategy. In other words, good content can transform your message from general advertising noise into something people really want to find out more about.

So what exactly do we mean by "content"? The short answer is: everything you create. Everything from your company's "about us" page to the snippets of information you publish on Twitter contributes to the way you are perceived online. Over time, the content you create builds up your brand's individual personality, which in turn creates understanding and expectation in your audience.
The question is, does that personality engage people? Are you offering potential customers something that will entice them back again and again?
One example of a company that has content production down to a fine art is computer giant Apple. While not everyone is a convert, Apple has such a devoted fan-base that they even have their own consumer-run forum. Their content is clear, simple, and friendly without becoming too informal. It's also seemingly endless. Everything from how-to video tutorials for their software to information on how their products impact on the environment is available to their customers.
Another aspect of Apple's marketing strategy to consider is that the company doesn't currently have a presence on social media. Many would argue that this is because Apple simply doesn't need to drum up more support, but we would add that the brand often benefits from consumers not knowing what's happening - its secrecy drives the buzz for upcoming releases to fever pitch.
As we all know, any real estate agency that tried to operate using that strategy would soon have to shut its doors. Agents benefit from being as visible as possible. But don't make the mistake of thinking anything that puts your brand in front of potential clients is worthwhile. If the content isn't up to scratch, you could easily be sending leads straight to your competitors.
Think about it: you might have a killer business model, a dedicated team of staff, and all the latest tech tools meant to make your everyday tasks streamlined and simple. But what is it that you're offering people when they find you online? Is it clear? Does it offer something worthwhile? Is it part of an overall marketing plan? Ask yourself these questions before you publish something online, and you'll be on your way to establishing a brand that's recognised, respected, and maybe even enjoyed.

Related posts: