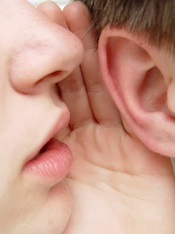 Any advertising - be it online or otherwise - generally focuses on a single goal: encouraging someone to make a purchase. For real estate agents, we could tweak this slightly and say the goal is usually to generate leads.

But if we consider this simple formula for a few more moments, another objective comes to mind: building a reputation as the go-to agent so that those who are familiar with you become your "brand advocates".
A brand advocate is simply someone who is impressed enough with your brand that they recommend you to someone else. Beyond great service, there are a few steps you can take in the digital world to get people on board as your advocates.
Step one is to figure out where potential advocates might be lurking. This is one area where social media really comes into its own: jump on Twitter, Flickr, or Facebook and it's possible to find whole communities discussing topics related to your business.
Michele Madansky, vice president of corporate sales and research for Yahoo!, summed up how important social media can be when she told clickz.com:
"The Internet has irrevocably changed word-of-mouth. There's no turning back. Social media is woven into [advocates] daily lives as well as their purchase processes."
This new word-of-mouth culture means getting it right in the social media realm is crucial. So once you find an online group that's right for you, resist the temptation to jump straight in with a sales pitch. Instead, start by tracking what people are saying to find out more about what they really want.
Now that you have a handle on your audience, it's time to create something worth telling them. This is where we need to reiterate the importance of great content. Remember: content doesn't have to come in the form of the written word. Competitions, survey results, or a gallery of enticing neighbourhood photos can be just as effective in drawing people in.
Once you have something interesting to offer, it's time to join the online conversation. But do it carefully. marketingvox.com puts it perfectly when they says that "not trying too hard is key".
"There's a stronger impact when you do it wrong in social media than when you mess up in a TV commercial," Stan Joosten, innovation manager at Procter & Gamble, explained to marketingvox.com. "[I]f I threw a dinner party and then tried to sell you Tupperware afterward, you'd never come back."
Put simply, creating brand advocates means going a few steps beyond the usual sales pitch. It's about defining what people want, and giving them an experience that prompts them to give you that valuable mention in return.
Related posts:
Related posts brought to you by Yet Another Related Posts Plugin.