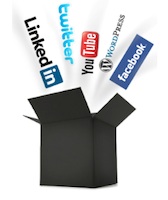 Today, propertyadguru.com welcomes another guest post from Richard Fellner, editorial consultant for the recently launched social media management tool, Sobox. Sobox was created by propertyadguru.com owner Classified Ad Ventures.

Richard has 25 years experience in the online marketing world, so he understands the ins and outs of online content, SEO and New Media. Here are his tips for social media success:
It's not enough to simply have a presence in social media. You need to actively engage with your fans and customers as well.
More importantly, however, you must engage with them correctly. A successful post isn't just measured by what you say, but also how you say it. Do it right, and you'll reap the rewards. Do it wrong, however, and you risk alienating your followers, and undoing all of your positive work to date.
Here are a few quick tips to make sure your posts and tweets are successful:
Chat (don't "intercommunicate"): Remember, social media is a conversation. So try to write the same way that you speak. Your posts and tweets should be crisp, punchy and sound as natural as possible. They should also be free of clichés, jargon and the dreaded "$10 words" (i.e. use "think" instead of "cogitate", or "buy" instead of "procure", etc). Also: don't treat Facebook or Twitter as another form of marketing brochure or property listing – your followers will quickly tune out, ignore you, or even worse, stop following altogether. Instead, imagine you are speaking face-to-face with a friend or colleague, and then let the words flow.
Ask (don't tell): Just like in the offline world, asking questions is a great way to build an online conversation. For example: Let's say the Reserve Bank raises rates. The natural instinct might be to Tweet something like "The RBA Raised rates again, homeowners will feel the pinch." While this is certainly a timely and informative post, a better choice might be to interact with your followers with a question like "What does everyone think about the RBA's decision to raise rates?" or "Has today's rate rise changed anyone's plans?". From here, you might generate responses or comments, which will open the door to further conversation.
Listen (and respond): Any successful conversation – whether face-to-face, by phone, etc – requires solid listening skills. It's the same with social media. Once you have posted a thought or idea, keep a close eye on any comments you receive, and be sure to respond to their comments as quickly as possible. The more often you respond to your followers' comments, the better your online "credibility" will be.
Go Offline: Of course, there is no substitute for actual face-to-face interaction with your followers and customers. So whenever possible, show your support by going to some of the local events or gatherings which your followers will be attending (eg. An event among your Facebook fans/friends). Or, better yet, why not host an event of your own, held solely for your Facebook or Twitter followers? By meeting these people in person, and showing that you are an active member of their community, you will be more likely to gain their trust and respect, and open up many opportunities for future business.

Related posts: