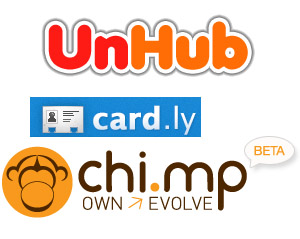 "Social media overload" is a phrase that has been gaining prominence over the past few months. As we discussed last month, agents who use social media have to make sure they balance the amount of time they spend creating and updating their online profiles against the number of leads their efforts generate.
When you consider how easy it is to lose time using social media, it's hardly surprising that a number of online services have popped up that promise to simplify and streamline your online presence. Let's take a look at a few examples that could be useful for agents.

card.ly
card.ly says its main aim is to provide people with "mini business card profiles" at their own personalised .ly address. Once you have your address and a short bio written up, you can then add links to all your other online profiles: your Facebook page, Twitter account, LinkedIn profile, Flickr photos, blogs – in fact almost 50 types of online profile are currently supported. It's free to register, however some business card themes are only available to members with premium accounts.
Who could use this?
Agents who love social media but don't have their own personal website, and who want to draw all their profiles together at a single location.
chi.mp
chi.mp is similar to card.ly in that it provides you with a personalised .mp address, but instead of linking to all your other online profiles, a chi.mp account brings all the content you post to websites such as Twitter, Facebook, or your blog and displays these in a chronological stream down the page. As well as an "about me" section, chi.mp accounts also have a section that links to your contacts. chi.mp community director Laurel Boylen's account is a good example of how it all works.
Who could use this?
Again, agents with a love of social media and a desire to bring all their content together in one place could benefit from a service like this, and while it doesn't have the same sleek presentation of a card.ly online business card, the single stream of information coming from all your online profiles means a quick glance at one location will give people an idea of your latest activities.
unhub.com
unhub.com says it offers "simple, smart profiles" with a "personal profile bar". Giving people the address to your personal profile bar will place a persistent bar at the top of their web browser, and from there they can navigate to your various online profiles under headings such as "My Bio", "My Videos" and "My Status". unhub.com directs us to Barack Obama's account to understand how it works.
Who could use this?
unhub.com could be the perfect fit for agents who want a balance between the more formal presentation of card.ly and chi.mp's ability to allow people to see all their information at a single source.
As always, we'd love to hear from people who have used these tools, so let us know what you think in the comments section belie.

Related posts: