visualtour.com Links with viewthishome.com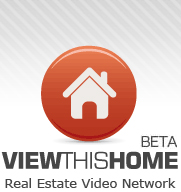 US based real estate video website viewthishome.com has announced a partnership with software and Internet company visualtour.com. Though the deal, agents who have virtual tours on visualtour.com will be able to post these to viewthishome.com for free.

viewthishome.com offers members free hosting for property videos, and also provides a search engine for videos from the US, Canada, Costa Rica, Mexico and Puerto Rico. Members can have any number of videos hosted by the viewthishome.com, and can embed these in their own website.
visualtour.com entered the Hitwise top 20 list of US real estate websites in May this year, and states it has more than 100,000 users. The website is subscription based, and recently announced a similar video syndication partnership with realtor.com.
A press release quotes viewthishome.com creator Darlene Smith as saying: "People need to find your videos online. The more presence you have online the greater your chances are for your videos to get found."
Related posts:
Related posts brought to you by Yet Another Related Posts Plugin.