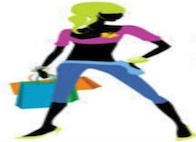 In this week's agent strategy, Windemere agent Katherine Cannon shares an original take on blog and Facebook content, showing how important it is to find and maintain a niche focus.

My strategy for online marketing and lead generating revolves around knowing my audience. As the owner and author of highheeledhomeowners.com, I know that my readers are young, female, and their lives probably don't revolve around interest rates and HOA dues.
I defined my niche by working with my real estate coach, Darin Persinger. My niche makes it easier to know who I'm writing to, and who I'm trying to work with. It has caused the climb to be a fun one! My job is to educate my sphere, and establish myself as the authority, in the most to-the-point, readable way possible.
SEO is not my biggest focus, or source of business…yet. My focus is engagement, and I find that Facebook is the easiest way to manufacture some conversation.
Dale Chumbley's "What is it?" game that he plays on his Facebook wall was my inspiration for my "pretty things" series. Dale posts pictures of obscure objects at angles and shades that make it tough to tell what it is. He consistently gets several comments within minutes. Comments can result in appointments, which can result in closings, and/or referrals. In my experience, pictures of "pretty things" I see throughout my day posted on Facebook result in way more interaction than anything I ever post about killer interest rates or tax benefits.
I do my best to pique interest in the minds of my audience, and get them to go from Facebook to my blog. On my blog, my readers will have any question they might have about real estate answered. I create content at least three times a week, so I have everything from dry (but of course useful) real estate info…to pretty things.
Do you have a real estate marketing strategy you'd like to share? Get in touch with us at [email protected] and we'll feature you in our next agent strategies article.

Related posts: