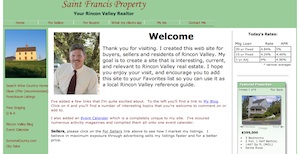 Welcome to our new Agent Strategies series, where we get the inside word on how agents from across the globe are marketing themselves online.

Today's strategy insight comes from Jim Cheney, an agent who works in Rincon Valley, California. Jim is using a formula that should be familiar to most readers - driving traffic to his website via a regularly updated blog. Jim's story shows just how effective this simple strategy can be:
"I've been a real estate agent since 2003, and mostly advertised in the local newspaper and Homes and Land Magazine. The newspaper was about $400 a month for classified and open house ads, and Homes and Land was $800 per issue for a full page ad. At the end of the year I would have spent thousands of dollars on advertising.
In 2009 I took a technology in real estate seminar presented by Dick Betts, a national real estate trainer. I learned of the positive aspects of blogging, and how and where to blog. I try to blog daily, and am the top blog producer on Active Rain for Sonoma County.
I recently began "hyper local" blogging where my blogs are about local issues related not to my city, buy to my neighborhood (Rincon Valley). My articles are keyword rich, which makes my blog pop up on the the first page of a Google search containing "Rincon Valley property" as the search term.
I get one to two contacts per week from potential clients who visit my web page. When I ask these contacts how they became familiar with my website, they tell me they found it while searching for property on the Internet.
I no longer do print advertising. I get more leads now at a minimal cost ($30 per month for an Active Rain premium membership) and the cost of my website, saintfrancisproperty.com.
I'm lucky that most of my peers have not realised the power of blogging or SEO, and still rely on print advertising. I'd be willing to bet only 10 percent of the agents in my office know what SEO stands for. I laugh when I look at the local newspaper classified section and see seven listings advertised in a city that has hundreds of active listings.
I know that eventually my peers will catch on and I will have more compitition for Internet clients, however I will be far ahead in the game, and to tell you the truth, am not really concerned."
Got a great online marketing strategy you're keen to share? Get in touch with us at [email protected]

Related posts: