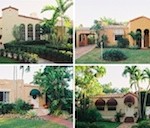 Today we take a peek behind the scenes at thecoralgablesstory.com, which we previously highlighted as an example of a well designed real estate website. According to Janie Coffey, owner of boutique brokerage Papillon, which runs the website, blogging is her number one lead generator.
"Anticipating and writing about what people are seeking is very important," Coffey says. "Number two is nurturing my sphere of influence. I do this mostly through Twitter, but people can do it any way that works for them and their sphere. Just being consistent and providing value is the key."
Clearly, social media use is key to Coffey's business. "I use it to both find new relationships and nurture existing ones," she explains. "For me, the search capability of Twitter is unsurpassed at making new connections, and sites like Facebook and LinkedIn at nurturing and maintaining them."
But while Coffey is convinced of the value of social media marketing, she doesn't advise using it as a platform for the hard sell. "I do not seek to 'push' my business, but to be genuinely interested, friendly and helpful while gently reminding people what I do for a living," Coffey explains.
Finally, Coffey has some advice for agents who feel they have to be on every online marketing channel: stick to a few that you and your sphere find interesting.
"Don't spread yourself too thin, don't try to fit a square peg in a round hole and be consistent," Coffey says. "Stick with your plan for six to 12 months before you give up."
"Many real estate consumers start their search online so far in advance, so if you don't give yourself this time to develop a presence and relationships, you'll never know what is working," she concludes.
Do you have a real estate marketing strategy you'd like to share? Get in touch with us at [email protected] and we'll feature you in the next instalment of Agent Strategies.

Related posts: