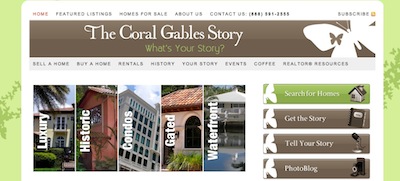 There's plenty to like about thecoralgablesstory.com, the website of boutique US brokerage Papillon. From a design point of view in particular, there's a good deal of inspiration here for agents looking to update their websites. In today's website spotlight, we've picked out three things we think thecoralgablesstory.com does really well.
Use of photos: The layering of five photos showing the different types of houses this agency works with is a smart move. Not only does it show buyers and sellers the kind of experience the Papillon team has, it also gives visitors an immediate sense of what Coral Gables is like. By showcasing the location rather than the agents themselves, thecoralgablesstory.com keeps the emphasis on what their audience will be most interested in.
Calls to action: As soon as you open this website, your eye is immediately drawn to the green call to action on the right, "search for homes". The next two options - "get the story" and "tell your story" - are intriguing enough to prompt you to click on them. The first turns out to be a comprehensive set of subscription options, while the second leads to a page asking for visitor contributions to the website's blog - a move that undoubtedly saves this agency some time when it comes to blogging. Along with these calls to action, there are numerous other options distributed throughout, asking users to connect through everything from RSS to Foursquare.
Blog post visibility: Another good choice Papillon have made is to highlight many of their blog posts on their homepage in the "recent posts" section. This means their previous posts have a longer shelf-life and are more likely to be read than if they were hidden in an archive. At the same time, thecoralgablesstory.com makes its previous posts accessible through eight categories that sit under its header, giving visitors another chance to discover their content.

Related posts: