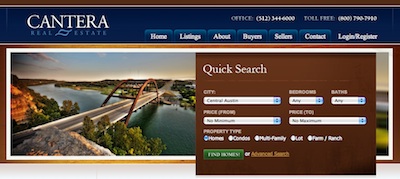 When website designers Vandelay Design put up their 27 of the best real estate websites list last week, we had to take a look at who made the cut. One website that stood out was jimolenbush.com - perhaps better known as Cantera Real Estate - which represents a boutique real estate company based in Austin, Texas.

Just as we saw with nestrealtygroup.com, this website immediately puts the emphasis on place with an enticing photo and details on Austin's communities. At the same time, home hunters keen to get straight to the listings are catered for with a "quick search" box in prime position on the homepage.
The way jimolenbush.com presents its listings might well be the website's best feature. Along with the quick search, home hunters can find listings by zip code, MLS number, and Google Maps. A menu down the left-hand side of the website also divides listings into three categories: luxury homes, downtown condos, and new home builds. With so many bases covered, jimolenbush.com is bound to please a large percentage of its user base.
Along with listings, jimolenbush.com provides a information on local schools, and its blog is regularly updated by each member of the agency's team. The blog follows a formula we've been advocating for a while now - a mix of market information, listing highlights, and community news.
Finally, jimolenbush.com isn't shy with its calls to action. The office phone numbers are listed twice on the homepage, and again on the contact page, which also presents a lead capture form. Just to be sure, these numbers are repeated at the top of each listing page. This might sound like overkill, but better that than miss out on a lead.

Related posts: