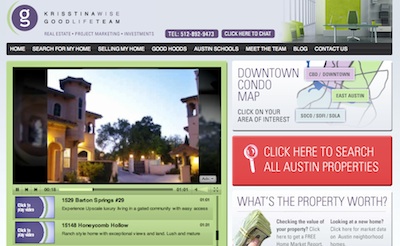 Having featured so many great real estate websites on our blog so far, we were a little shocked to find that we had overlooked goodlifeteam.com, winner of the Inman News Innovator Award for 2010.

As soon as you open this website, you have a sense that Krisstina Wise and her team know just about everything there is to know about real estate in Austin, Texas. Along with listings and home value information, it also offers neighbourhood and school guides, not to mention a blog that covers the local market in detail.
"Beyond just the MLS Austin, we've raced ahead to Google, Yahoo, Trulia, FaceBook, Twitter, Craigslist, iTunes, iPhones, blogs, chats, webinars, text messaging, podcasting – even a wireless patio," goodlifeteam.com explains, pointing users to interactive maps, free web seminars, and home value research tools.
Clearly, goodlifeteam.com sets the bar extremely high, but that doesn't mean agencies with less extensive websites couldn't use it for inspiration. One aspect of goodlifeteam.com we want to draw particular attention to is the video blog on the front page - this is a great example of how to balance listing features with local information and other updates to position your agency as the market expert.
For an in-depth look at all the work that went into creating goodlifeteam.com, check out techsavvyagent.com's interview with Krisstina Wise and her chief technology officer, Jack Miller.

Related posts: