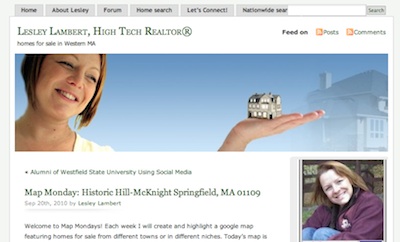 Over the past few days, a post by Benn Rosales over at agentgenius.com has been making waves. The topic? The relatively time-consuming task of blogging, versus the quick blasts of information agents send out via channels like Twitter and Facebook.

"Blogging is the cornerstone to all online marketing unless your goal is to simply boost traffic and the prestige of the latest social network," Rosales writers. Whatever your opinion on this issue, the comments are definitely worth reading through to see the wide range of views on how agents should best use social media.
One of the commenters who caught our eye was Lesley Lambert, who summed up her online marketing strategy this way: "The best thing I ever did for my marketing was to write blog posts and I spend lots and lots of time nurturing my blog sites. I love all the aspects of social media, but agree that without the home base of a strong blog, you are tweeting in the wind."
Reading this, we decided to follow the link to Lambert's website - westernmahomes.net - to see what works on her blog. Here's what we found:
- A clear call-to-action. A slight scroll down the first page of Lambert's blog reveals something all real estate agents should be including on their websites: a form to capture email addresses. Lambert's is for people who want to join her mailing list, but you could attract just as many sign-ups with an offer for more market data or even a free home valuation.
- A strong local focus. Lambert is targeting the area of western Massachusetts, and particularly the community of Westfield. The titles of many of her posts have the specific phrases "Western MA Realtor" or "Homes for sale in Western MA," ensuring the blog will rank higher for these terms in search results
- A regular posting schedule. Not every post on Lambert's blog is directly related to real estate, but she blogs often enough to keep her readers - and Google - interested in her content. She's even got a regular Map Mondays feature, showing homes for sale in different regions within certain price brackets. Using words like "This map shows the homes for sale and available between $100,000 and $200,000 in West Springfield, MA" is a great way to target people searching with those particular keywords. Best of all, she finishes these posts with another call-to-action, including her phone number and social media details.

Related posts: