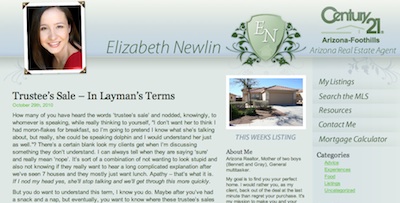 Over the past few weeks, the idea that "blogging for real estate is dead" has been debated across a number of sites. Portland agent Garron Selliken kicked off the conversation, then inman.com contributor Gahlord Dewald gave us his response. In Dewald's comments, we came across one website we think proves real estate blogging is very much alive.

The blog in question belongs to Elizabeth Newlin, a Century 21 agent working in Arizona. In her comment to Dewald, Newlin summed up what she wants to get out of her real estate blog:
"My goal is to build readership of people who come because I'm interesting and entertaining and who come back regularly, and then when they have a real estate need, or hear of someone who does, they think of me, because I'm funny and I talk about real estate."
Looking through the posts on Newlin's blog, one thing becomes abundantly clear: it's ok to have a sense of humour, even when you're talking about real estate. This recent post on the art of writing listing descriptions is not only entertaining, it also takes the practical step of reaching out to readers for their opinions. Better yet, the post sparked a lively conversation on the topic of what makes listings stand out.
Newlin describes her style as "tangential" to real estate - so much so that she's about to re-name the website realestatetangent.com. But in amongst all the fun, Newlin hasn't forgotten the basics, offering her audience clear contact information, a succinct "about me" section, and tools such as a mortgage calculator and listing search.
What do you think of Newlin's approach - is it a refreshing break from the usual real estate blog fare or a little too left of centre? Let us know your thoughts in our comments.

Related posts: