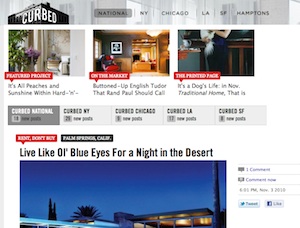 With a team of editorial staff and no less than five local versions of its main website, you might be wondering why we're bothering to feature a blog as high-level as curbed.com. Granted, creating a blog like this would take a huge amount of effort, but there's still plenty that even a beginning real estate blogger can learn here.

One of the things curbed.com does extremely well is make real estate the hero. "Get a load of these windows," prompts one post. "It's glamorous, sumptuous, luscious—and other words ending with 'ous'—but likewise restrained," jokes another. This makes the blog an enjoyable read, even if the houses being featured are well out of your price range.
curbed.com also knows that great photos are as important as copy. Every post includes something that catches the eye and encourages you to keep scrolling down to see what pops up next. Not every post is about property either - many are links back to other interesting things the writers have found that have only a loose connection to real estate.
Another aspect of curbed.com that real estate agents could emulate is the way it engages it audience with giveaways. Take a look at this recent post for a prime example of how to run a giveaway. It entices readers with photos and then encourages them to "like" curbed.com on Facebook so they can be involved in the competition. A simple, effective way to boost your Facebook audience.
So don't be intimidated its the scale - head over to curbed.com and see what other inspiration you can draw for your own real estate blog.

Related posts: