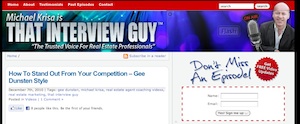 This week we're taking a look at another Inman Innovator Awards nominee for 2010: Michael Krisa's thatinterviewguy.com.
There's no question that every real estate agent can learn something from this blog, which offers a wealth of information through its archive of interviews. But the reason we wanted to highlight thatinterviewguy.com was for the way it uses one of the most important aspects of all real estate websites - its calls to action.
As we've discussed before, calls to action need to be obvious and simple, clearly spelling out what it is that you want your website visitors to do. thatinterviewguy.com ticks all the boxes with its calls to action, particularly with its attention-grabbing offer to get free video updates in the top right corner of the page.
A little further down the page, thatinterviewguy.com has another set of options to subscribe to its RSS feed and visit its Facebook page, YouTube channel and LinkedIn profile. If you're worried that visitors to your website won't know what these simplified logo buttons actually do, take a leaf from thatinterviewguy.com's book and spell it out: "Add me as a friend & subscribe here."
For some, theinterviewguy.com's approach to calls to action will seem too over the top, but we would argue that a sign-up form that sticks out is preferable over one that website visitors have to go hunting for. At the very least, let thatinterviewguy.com's example prompt you to take a good look at the calls to action on your website, and see whether they could be made any more prominent.

Related posts: