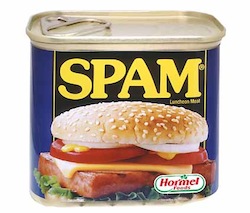 Offers for free prescription drugs, compliments on your writing from someone called "fast weight loss", complaints from someone you've never heard of about removing their "informative" post - if you've seen any of these pop up in your comments queue recently, you're in need of something to fight spam. Today, we'll show wordpress.org users how to add a really effective spam filter - Akismet - to their blogs.

1. Sign in to your blog and click on the "plugins" menu on the left side of the screen to open the plugins page.
2. Find the search bar at the top of the plugins page and do a search for "Akismet".
3. Once Akismet appears in your results, click "details" and a new window should open up. Follow the link that says "Akismet API key".
4. Now you should be at Akismet's homepage. Scroll down to the link that says "use Akismet for free".
5. On the sign up page, make sure the "1 free API Key" option is checked, fill in your details, then hit next.
6. Choose a user name and hit next again.
7. The free API key will now be sent to your chosen email address.
8. Return to your blog's plugins page, and hit "activate" under Akismet.
9. Go to the tab marked "Akismet Configuration" and enter your API key in the box.
10. Click the "update options" button.
With Akismet in place, you should see a dramatic drop in the number of spam comments you have to wade through each week. Of course, some do slip through Akismet's net occasionally, so it's still a good idea to moderate your comments to make sure they all contribute something to your blog.

Related posts: