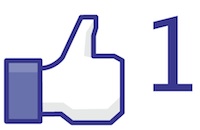 That little blue thumbs-up picture - Facebook's "like" button - is now popping up all over the web. Adding it to blogs is especially popular, as it gives readers a quick, simple way to share what they've just read with their Facebook friends. If your real estate blog doesn't have this button yet, you're missing out on an easy way to reach a wider audience.
Luckily, adding the button is very straightforward for those running their blogs on wordpress.org. Here's a step-by-step guide on how to add one of the plugins that displays the "like" button:
1. Log in to your blog's admin area.
2. Open your "plugins" menu on the left hand side.
3. Choose "add new" from this menu.
4. Search for "Facebook like button" in the "search plugins" box.
5. Click "install now", then click "ok" on the confirmation message.
6. A screen should appear showing that the plugin has been successfully installed. Here, click "activate plugin".
7. Now you should be directed back to your plugins screen and the words "plugin activated" will be highlighted at the top.
8. Facebook's "like" button should now be appearing at the bottom of your blog posts.
That's all you need to do to add the button, giving your readers another way to share your blog posts with all their Facebook friends.

Related posts: