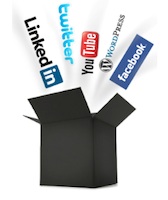 This week's guest post from SOBOX covers the latest release from location-based social network Foursquare from an Australian perspective.
In the race for popularity stakes in the location-based social networking arena, Foursquare has released some enhancements to its offering. This, as well as Facebook Places, soon entering the Australian market, will mean that there is no excuse for users and businesses not to be located – if they want to!
Foursquare, which focuses on encouraging people to explore their neighbourhoods and reward you for doing so, has launched a new model (or second iteration) – Foursquare 2.0.
The online location tracking system for users and businesses lets users earn points and win Mayorships and badges for trying new places and revisiting old favourites, while businesses can encourage users to visit their premises by offering specials, which include discounts and prizes. Users can also choose to have their check-ins posted to their Twitter and Facebook accounts.
Some of the new features of Foursquare 2.0 include splitting the tips and the to-dos on the Apple app – coming soon to Blackberry and Android – and sprinkling these through the site. It has also added an "Add to my Foursquare" button.
Another addition is businesses can now embed their Foursquare profile on their web pages and users can use the button to easily add them to their Foursquare account.
Also, coming soon to Australia is Facebook Places, which allows you to check in to places you go and share where you are with Facebook friends. It also has maps, comments and the "like" feature. Unlike Foursquare, Facebook Places (check out this review) doesn't exhibit the game-like functions and instead just lets you check in and out.
These location-based networks are becoming very popular for users and businesses alike and offer a great way to encourage loyalty with your clients.

Related posts: