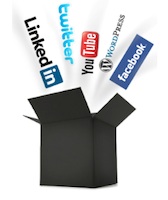 Facebook has been making quite a bit of noise with new releases over the past few days, and SOBOX - the social media solution created by propertyadguru.com publisher Classified Ad Ventures - has an update for us:
As another incentive for businesses, especially real estate agencies, to be part of Facebook Places, Facebook is testing a new check-in rewards system called Deals. Although Facebook has refused to confirm or deny the rumor that Deals is being tested, we have it under good authority that it is about to be rolled out.
Deals was discovered through an email confirming approval of a social check-in from Facebook to one of its limited partners.
How it will work, when launched, is that users will receive rewards by tagging friends when checking in to a "place". Apparently companies will be able to monitor how many people use Deals through their admin interface.
We have blogged often on location-based social sites, including Facebook Places and Foursquare. One of the major differences between the two was that Facebook Places was portrayed more as a "social" vehicle, whereas Foursquare has always been aimed at businesses pushing rewards and users getting badges. Now it would seem that the goal posts are shifting!
Check out this article for more information.
This combined with "Popular Places", a new check-in module appearing on the right-hand side of some Facebook pages where events and ads are, make Facebook Places even more important for businesses.

Related posts: