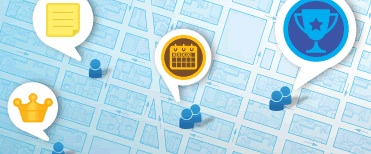 Avid followers of online trends will already be familiar with Foursquare, the wildly popular location-focused social network that lets its users earn points and unlock "badges" when they visit certain locations and "check in".

Whether you're a Foursquare convert or have never heard of location-based mobile social networking before, chances are you'll be interested in CEO Dennis Crowley's tips on how to grow a small business.
Crowley, an ex-Google employee, shared his marketing insights with openforum.com, revealing just how effective an informal approach to marketing can be.
Crowley explained that Foursquare leans heavily on Twitter to communicate almost everything the company does. "Keeping users in the know doesn't take any more than a few seconds and your most loyal users will spread the word via [retweets]," he said.
Foursquare also uses Twitter to find people who are having problems with their service and tries to solve the issue publicly.
"Making yourself part of the conversation shows users you're listening and care about the issues they have," Crowley said.
Overall, Foursquare's approach is open, friendly, and focused on people rather than product. It's certainly working for them - could this strategy have the same effect on your real estate business?

Related posts: