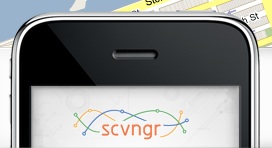 By now, many real estate agents will have at least heard of location-based social networks like Foursquare and Gowalla. Put simply, these online networks - generally accessed via smartphones - allow users earn points and unlock "badges" when they visit certain locations and "check in".

Some agents are even using these networks as a marketing tool, using check-ins around their town (and even at their own listings) as another way to connect with their community.
But agents aren't the only people in the real estate industry getting in on the growing location trend. Now, US-based listings website homefinder.com is starting up its own location-based marketing campaign in Atlanta.
The campaign has been created through a partnership with the SCVNGR location-based game. Add a few vowels to that name and you'll start to see what homefinder.com has in mind.
The game, which is set to take place on 18 September, will see up to 1,000 qualified home buyers visit different homes for sale and complete challenges at each location.
"Participants will have to learn something unique about each listing in order to complete the challenges and will accumulate points as they progress through the game," homefinder.com explains. "Agents and brokers will get to interact with the contestants at each stop – making it a great time to feature actual for sale homes and have fun with a targeted local home buyer audience. At the end of the day, the top scorer will win an incredible grand prize of a large down payment toward their dream home."
"It's all about reaching home buyers in a meaningful new way and forming a lasting connection," says says Mark Tepper, vice president of sales and business development at homefinder.com. "The convergence of fun, gaming, mobile and social is a really powerful way to achieve that."
SCVNGR marketing director Melody Tran says the company "hoping this partnership will change the way people buy homes."
We want to know your take on this campaign. Will home hunters be interested in this kind of game-based home hunting, or will they be more likely to stick with what they're used to?

Related posts: