Bloggers Get More Website Hits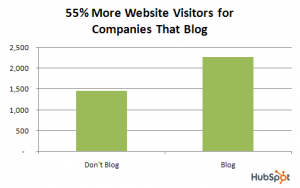 Anyone sceptical about the power of blogging should take heed of a survey by website provider HubSpot, which claims that those who blog receive more visitors to their website.

Basically, blogging is good for your business.
The survey looked at 1,531 HubSpot customers who run mostly small- and medium-sized businesses. 795 of the businesses in this sample blogged, and 736 did not blog.
HubSpot says that companies that blog have far better marketing results. Proving this, they quote figures that show that the average company that blogs has:
55% more visitors - providing more potential leads and sales
97% more inbound links - increasing search engine rankings
434% more indexed pages - creating a better chance of being found on search engines
So if you've been thinking of blogging, it might be a good time to start.
Read propertyadguru.com's Top 10 Tips for Writing a Blog.
Related posts:
Related posts brought to you by Yet Another Related Posts Plugin.