Match-Making for Agents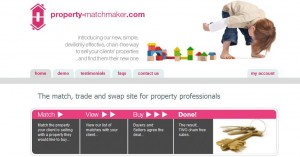 property-matchmaker.com has been modelled on successful American websites. It is the third such website to appear in the UK in as many months.
As a "match, trade and swap site for property professionals", the site works by literally matching details of the needs of home sellers uploaded by Estate Agents and House Builders, who then trade homes. The website is intended for property professionals but not available to the general public to use.
Benefits to estate agents include daily emailed reports with exact matches based on location, price and number of bedrooms. Agents are then free to arrange the viewings and negotiate the sales.
Sounds too simple? Its creators are hoping it will be.
property-matchmaker.com was established by Miki Rogers and Paula Westacott, who are based in Yorkshire. Rogers, a former IT professional and teacher, was quoted in an article on Estate Agent Today saying "Our website is unique. Historically, house-swap businesses have cut out the agents, but our site is for the sole use of professional estate agents and house builders."
The major selling point? In this economic climate it's sales, of course: "With no need for a first-time buyer and no chain, the chances of completion increase and so do your profits!" says the company in the FAQ section of its website.
The portal operates on a pay-to-list model, with agents and builders paying for a 6 month or annual contract. It costs £850.00 for a single agent to join on a 12 month contract, and allows up to 350 properties to be uploaded.
property-matchmaker.com will face competition from another two recently launched UK house swap websites partexmyhome.com and myhomeforyours.co.uk. But it is the only website to focus on agents.
Although debuting only recently, property-matchmaker.com lists testimonials from agents including John Newhouse from Roseberry Newhouse:
"Roseberry Newhouse are delighted to be joining with property-matchmaker.com in what we believe is an exciting and enterprising venture which will add another dimension for our clients who are looking to sell and find a new home. The majority of our sellers who we have already spoken to have been extremely receptive and keen to embrace the idea. The website is well designed and thought out making it easy to use and we expect to see positive results from it."
It all bodes well, but the proof will have to be in the sales.
No related posts.