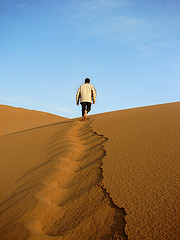 As we discussed in Part 1 of our series on nurturing your leads, whether generated by your own website or through one of the major property portals, leads need to be handled, swiftly, effectively and with a surety to provide concise and relevant information.

The way you respond to any leads can not only bring you business, but also position you as a leader in your field. If you add significant value to your initial response, you could find yourself building a very fruitful business relationship.
There are many ways to position yourself as a leader in your field by simply supplying additional helpful and relevant information to your leads.
Buyer's or seller's guide
Prepare some in-depth information on how to assist people during the buying and selling process. Include such information on rating properties they inspect, selecting the right agent, obtaining finance, check-list for moving, etc.
A guide to your local area
Prepare some information on the facilities and attributes of your market area including great places to dine, parks, education institutions, arts and sports facilities, etc. Brainstorm with your staff the types of information you can include. This may take some work initially but what a wonderful tool once it is done that could set you apart from competitors. What else can you think of to include?
Why exceptional service to buyers is vital
There are some agents who treat buyer enquiry with less than exemplary service, perhaps due to the fact that there may be a good chance they end up purchasing from another agent as they are more likely to make decisions around the property and not the agent however, this is really short term thinking for these reasons:
1. Estate agencies have a duty to their clients (the seller) to actively and vigorously follow every prospective purchaser to the very end and exhaust all avenues of opportunity
2. Although a prospective purchaser may eventually buy through another agent, that does not mean they are unhappy with your service and in fact it may be the exact opposite. They may be more motivated to refer you in the future than the agent they actually purchased from. The point is, in this business you need all the advocates you can muster out their telling the world about your super service.
3. What if this or their next purchase is an investment property and they require a letting agent?
4. And most importantly, these prospective may be sellers too. They are not only judging you on your service to them as a buyer but how you will handle their sale and follow through on their prospective purchasers should they instruct you to sell their property. See related article: Buyers are Often Sellers Too.
Any contact received is potential future business and should be treated as such if you are in the estate agency business for the short or long term. How you respond and nurture these leads will be the foundation of your business moving forward giving that more and more of your opportunity will be emanating from this medium.
[image: flickr/Hamed Saber]
Related posts: