We haven't talked much about mobile phones, smartphones or PDAs here yet. Their use in online marketing for the real estate industry tends to divide the room pretty quickly. There are those who swear mobile applications are the way of the future and that they will revolutionise the way people search for and advertise property. And there are those who think a small screened device will never have enough 'oomph' for property advertising and that features are too restricted.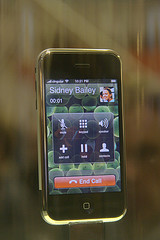 With the recent launch of Starberry's iPhone application that allows agents to blog and publish direct from the iPhone it got me wondering again whether it is possible to use mobile devices more cleverly in real estate advertising.
The Starberry application specifically allows clients to do 'on-the-go' publishing using a simple WYSIWYG editor, akin to writing an email. You can upload multiple images too. As property websites are trending towards more fresh, relevant content and the ability to create and update content from anywhere, it makes sense that this sort of application has appeared on the scene.
Imagine the ease of being in the home of a newly won client with the ability to take photos, write the description and upload the advertisement to the web, all using your iPhone. No need to pay a repeat visit and linger too long before posting the advertisement. You can discuss the ad with the property owner right there and then and show them how keen you are to get their home on the market as soon as possible. Of course the application doesn't allow for links through to portal administration systems etc, but it is definitely a step in the right direction for fast publishing and will provide your own website with fresh content as quickly as you can type it.
This is just one example of how a smartphone could work for you as an agent, and with the iPhone gathering popularity it is not an improbable future. And I believe this is a far more likely scenario for using the phone as a tool in the advertising process than the other side of the coin, which is the likelihood of consumers viewing property advertisements via handheld devices.
There have, of course, already been a number of attempts by agents and portals worldwide to produce mobile-ready classifieds content but there doesn't appear to have been anywhere near the adoption rate predicted. Feedback is mostly that consumers are happy to receive text notifications about auctions, inspection times or newly listed properties, but they are not as keen to view photos and lengthy descriptions on their phones. They are driven to their laptop or PC to actually view the advertisement properly. I suspect this is due to a number of factors: property is such a large investment that people wish to take time to view photos and read descriptions properly; many phones have too small a screen to comfortably make out images; and cost of download can be prohibitive.
There have also been numerous attempts at building applications that allow users to send a text with a property ID number (usually taken from the property sign-board) to a central database and have more information about a property sent back to them.  These systems seem to have disappeared off the radar in recent times however, failing mostly due to billing issues (who pays for the text etc) and low volume take-ups. These sort of 'gate-keeping' information systems have not been a particularly smart way of driving consumers to use their phones and are really only effective for local markets - ie. those who physically go past the billboard and type in the ID.
One of the other main hurdles in mobile advertising/marketing is that I believe consumers still view their mobile as a private device, one on which advertising is an invasion of space. It's somehow different to receiving advertising online on your PC or in your letterbox. Maybe because it sits in your pocket, so close to your person??!! This is a hurdle that the mobile advertising gurus will have to get over. So what's next on this front and will it cut through in the property advertising market?
[image: flickr/Eliya]

Related posts: