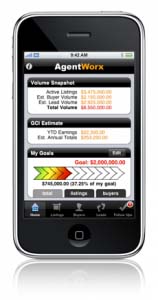 Another iPhone application has surfaced to tempt agents using Apple's iPhone: the "Agentworx" contact management and productivity tool just released by AppSpice.

Agentworx draws together information on listings, upcoming activities and tasks, earnings, buyers, and leads. A digital flyer about a particular listing can be sent to a client while you are speaking with them, and their email address is captured automatically. The application also displays year-to-date earnings, estimated earnings and financial goals. A free version is available but the full version of the application costs US$9.99.
The number of iPhone applications aimed at real estate agents is growing. One example is mobileapploader.com's customisable "Real Estate – Real Easy" iPhone application, released earlier this year, which includes agent contact details, a search function, an "about" page with an "add to contacts" link, and a location based feedback page.
Another option is Smarter Agent's mobile application, which covers not only the iPhone but other smart phones and mobile devices as well. "Homes for Sale", which recently received an enthusiastic review on agentgenius.com, uses GPS to allow homebuyers to search for MLS listing information on the move, and can be branded by agents and connected to their own websites.
And property portals are getting in on the iPhone App too, aiming mobile versions of their website listings at the every increasing mobile market.
A post on US real estate marketplace zillow.com's blog reveals their iPhone app has set yet more records. And it's also having another unexpected effect - converting agents to using the iPhone.
The free app has been available for just on two months and version 2 is already available. The app allows users to access property values and other information on the move.
"Over the weekend we hit another exciting milestone with our Zillow iPhone app: over 1/2 million downloads — 513,213 as of this morning," zillow.com write.
The company says that it's not just good news for zillow.com in terms of increased web traffic. According to some of the testimonials they have received the Zillow iPhone app is giving real estate professionals a reason to switch to the iPhone.
For instance, a blog post from Richard Stephan of Engels and Volkers on activerain.com tells how he converted to the iPhone because of the zillow iPhone app.

Related posts: