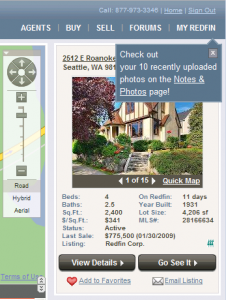 iPhone apps are becoming de rigueur for all property portals and related websites. So the fact that US online real estate broker redfin.com has an iPhone application is perhaps expected. But some of redfin.com's iPhone app features are truly innovative.

The company describe it as "gorgeous and fast and free and freakishly powerful" boasting that Apple took just ten days to approve it for the app store, where it is available for free download. While the real proof will be in the number of downloads, so far it's looking good.
The company says that the app has all the data from the MLS, as well as for-sale-by-owner and bank-owned homes not yet listed in the MLS. It shows all the photos, and all the amenities too, as well as how long the property has been on market and what it last sold for. And the whole search experience is driven by Google Maps.
The really innovative part of the app is the photo upload, which allows customers on tour to take pictures and notes that automatically upload to their account on redfin.com, so all that stuff is waiting on their computer when they get back to their desk. And of course redfin.com automatically associate each note or pic with the right house on the site.
As redfin.com says, the data goes both ways, with the website sending to the iPhone app a list of homes bookmarked as favorites, and which ones a user want to tour via Redfin too — so it is easy to get directions from place to place.
In announcing the new app, the company explained the thinking behind it on its blog:
"We focused on tours for a reason. Redfin's iPhone app isn't just a search application, it's one component of a larger home-buying service, where the other components are the website and — most important by far– the team of agents serving clients. And they all have to work together. If you're touring with Redfin and don't have your own iPhone, your Redfin agent will often be able to take pictures for you using her own iPhone."
"We want to take the same coordinated approach to improve the process of pricing an offer, finding a lender and getting through escrow. We call this strategy Freakish Depth, because our goal is to take users beyond the initial home search to fundamentally improve every step of the home-buying process."
"You may well ask what took you so long? Well, we re-built almost the whole search experience to work on the iPhone, so it would run fast and look good on that little thing. We clustered search results, to make it easier to move around the map and zoom in for more detail. We let you run sophisticated searches. The standard for any Redfin experience is that it can't just be a nice little distraction, it has to be a full-blown addiction, one you can count on and come back to again and again. We hope we cleared that bar."
The company is open to any feature suggestions and is particularly keen for any thoughts on whether the uploaded photos should remain private, even after the sale.
Find out more about the app at redfin.com's blog.

Related posts: