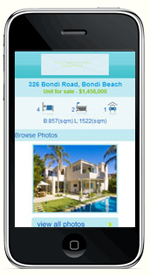 Real estate websites for mobile phones have been steadily gaining popularity, with many portals now providing a mobile phone version for users to access their listings on the go. Options for agents are gradually growing in number as well, such as US based company Smarter Agent's Homes for Sale application and Real Estate – Real Easy from mobileapploader.com.
Recently, a new Australian website has surfaced that provides a link between print advertising and real estate on the mobile phone. Launched in late July, Mohbe says it specialises in "providing real estate agents with mobile phone property listing websites without the agent having to do anything".

Mohbe uses QR codes – barcodes that appear in print advertising and can be scanned by mobile phones to link to online content – to direct people reading print material about a listing to a mobile website. The idea is that while print advertising can display some information about a property, the QR code will prompt property seekers to view more detailed information and photos through the corresponding mobile phone website.
Mohbe's websites can be viewed on any mobile phone able to access the Internet, and can be accessed by entering a Mohbe url as well as though the QR code. Mohbe promotes itself as requiring minimal effort from agents, and the website explains that properties can automatically appear on Mohbe through their XML property data feed via an agent's existing real estate software provider.
The application costs AUD$9 for a single listing, $29 per month for an annual subscription with unlimited listings, or $33 for a month with unlimited listings. Listings stay active until they are sold or leased.

Related posts: