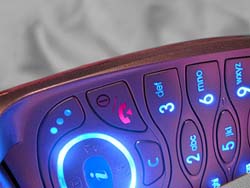 I have spent the last couple of days wandering around the NAR Convention in San Diego. This annual love-fest is attended by thousands of realtors from around the US with a few foreigners thrown in for good measure. While each NAR convention has the obligatory presentations, it is the expo and its 400+ exhibitors that are of most interest.
Amongst the beads, bags, and books are a range of technology providers each offering a potential "silver bullet" to a realtor's marketing needs. I therefore thought it would make sense to cover some of the technology "silver bullets" that were at the conference.
The first cab off the rank is mobile internet for realtors. Our next edition will look at the rise of video tours.

One clear trend at the NAR Conference is for realtors to have a presence on mobile devices. A range of companies including myAgent, Mobile Real Estate ID, Best Home 4 Me, and Smarter Agent, are providing consumers with the ability to search a realtor's listings on their mobile device.
Most providers offer mobile websites however a few are offering downloadable mobile applications, primarily for the iPhone. These mobile sites and applications are fully agent branded and allow consumers to search through the agent's listings and then to contact the agent.
The providers of downloadable applications also offer the realtor the ability to track where people are searching by tagging each user who downloads the application.
So should a realtor have a mobile presence and if so, should it be a mobile site or a downloadable application?
Firstly, having a mobile presence is probably best for realtors in the US. As the US is a multi-listing environment, a consumer looking at a realtor's site is really looking at all listings in the market (well all those in the MLS).
If you are outside the US, having a mobile presence should be seen as part of a broader marketing plan and the mobile site should work on conjunction with other marketing activities. For example, someone driving past a house for sale with a sign out front should be able to quickly go to a realtor's mobile site and see the information about that house.
It is also important to think about your mobile presence separately from your website. Your mobile presence needs to be customised – i.e. made fit for purpose. Therefore understanding how people will use your mobile presence is very important.
The second question is whether a realtor should have a mobile site versus downloadable application. My view is that they should have a mobile site. A mobile site is basically a version of your web site that is customised for use on a mobile device rather than on your computer.
I think that an application for an agent is nice but unlikely to be downloaded that often. Therefore a realtor needs to think about the cost of developing the application versus the likely return from having the application. The other issue is that you need to develop multiple versions of the application depending on the handset being used – iPhone, Droid etc.
Any which way you look at it, having a mobile presence is important for an agent.

Related posts: