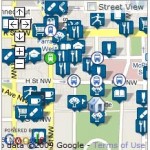 Welcome to the fourth in our series of technology trends from the NAR Conference held earlier this week in San Diego.
In previous installments we wrote about realtors having a mobile presence, the continued existence of video and virtual tours, and low cost websites being offered to realtors in the US.
In this installment, we will look at the use of local information on realtor sites to enhance the appeal and quality of the site.

In yesterday's article we discussed a realtor's website and what is important to have on those types of sites. One clear trend from the NAR Conference was for realtors' websites to have more and more local information.
This local information goes beyond the usual articles posted by the realtor about the area that they service to include statistical information on local sales, detailed information on local services and even local videos.
When thinking about exemplar sites to benchmark against, realtors should look at trulia.com. They have done a great job of integrating local information into their offering. The local information that they provide includes historical sales information, crime stats, comparable local properties, schools information, and discussion on local issues.
The good news for realtors in the US is that having local information on their sites provides a number of benefits.
It provides the visitor with more information on the local market and therefore increases the time onsite and the chances for you to build a relationship with the visitor and more importantly to gain their email address.
It provides a differentiator for the realtor against other local agents – always important in a competitive market
Finally, it gives the realtor a way to compete against the big boys – trulia.com, zillow.com and realtor.com. All realtors who are part of the MLS have access to all listings and therefore in the area they operate, they have the same number of listings as realtor.com, trulia.com and zillow.com. Therefore the realtor now has the chance to compete with the big boys on look and feel.
Overall adding local information to a realtor's site, no matter what country they are in, improves the quality and appeal of the site to the local buyer and seller.

Related posts: