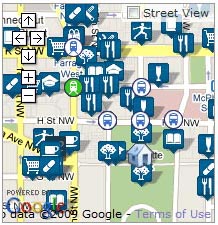 We've spent plenty of time here at propertyadguru.com highlighting real estate websites that do a great job of covering local information. This is because we know that, like good SEO and social media use, local real estate information is only going to become more important to a successful real estate website as time goes on.
Recently, UK real estate website thebigpropertylist.co.uk published its ideas on why local information is becoming more important in the online real estate world, summing up the issue well.
"In Google's quest for localisation, the search engine has started giving precedence in search results to websites that show that they have local relevance to queries," thebigpropertylist.co.uk explains. "This means a search for 'Hotels in Glasgow' is less likely to return a list of national hotel booking websites and more likely to return a list of actual hotels in Glasgow, represented by the business' own website."
"Likewise a search for 'houses for sale in Brighton' may, in the future, be more likely to reveal the websites of estate agents in Brighton than a national property portal website," thebigpropertylist.co.uk adds.
As thebigpropertylist.co.uk points out, UK portals are now catching up to their US counterparts in terms of their local content offerings, and this is a trend we've seen happening with real estate websites across the world. So it's still up to real estate agents to make sure they have the best local content on their website to stay competitive in search results.
One way to tackle this is to make your website hyper-local, zeroing in on information that might be of interest to people looking for property in very particular areas, as in this example from California real estate agent Karen Fiddler. For more ideas on how you can make your real estate website a go-to resource for your local area, check out these 10 ideas for local content. Of course, we'd love to hear your own ideas on local information in our comments.

Related posts: