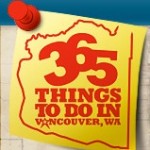 If you're a real estate agent working in the US, chances are you will have at least heard of Dale Chumbley, who attracted 7,000 Facebook fans in just over two weeks by taking on the challenge of publishing 365 things to do in his area over 365 days. Right now, Chumbley is approaching the end of this mammoth blogging endeavour, so we thought it was about time to highlight his strategy.
The fact that Chumbley has such a strong presence on Facebook is impressive, but he hasn't made the mistake of keeping all his content there, where he doesn't technically "own" it. Instead, he links to his blog from Facebook, driving traffic back to clarkcountyrealestateguide.com.
By now, at almost day 325, Chumbley has established such a presence that he was voted one of inman.com's 100 most influential real estate leaders for 2010. His formula, which is now being replicated across a number of other real estate websites, is extremely simple: highlight something interesting to do in Vancouver, WA every day for 365 days in 365 posts.
Simple as the formula is, Chumbley's daily posts have created a vast online community - over 14,000 people had hit "like" on the page at last count. Looking at the posts, it's clear Chumbley is also creating some strong relationships with local business owners, even offering discounts to readers who mention his posts.
Of course, you might not have the resources to dedicate to your own "365 Things to Do" project, but if you can replicate Chumgley's clear goal, consistency, and focus on the area rather than the agency, we predict you should see a significant boost to your Facebook following.

Related posts: