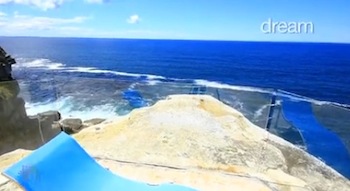 Real estate video is clearly taking off in the US, but how are agents making use of this technology in other markets? To get an idea of where real estate video is at in Australia and New Zealand, we spoke to Jeremy Bowtell, director of online video marketing company Visual Domain.
"While the learning curve for real estate video marketing is a steep one, agents are definitely becoming more and more inclined to use it on their listings. As with any new technology, people are quick to focus on the downfalls, however over the last six months we've seen a dramatic increase in standards of quality and service.
Considering that Australia and New Zealand are subject to relatively slow Internet, and long distances for crews to cover, the ways in which we deliver content will continue to become more efficient and effective. At present, the increasing use of video online suggests that agents are committed to the concept, and technological constraints are no more than a temporary hurdle.
There is definitely still an impression that video is only appropriate for big expensive properties, but we always encourage agents to use video on anything from $5 million mansions to vacant lots. At present, video is usually reserved for the higher end of marketing budgets, but as more agents start to see the results that video can provide relative to the costs involved, we believe that more will start using it. To date we've been really impressed by the amount of agents who are keen to innovate and think outside the box, but we're always keen to see more!
A few things:
Choose a reliable, established production company to work with. While video for real estate is still in it's infancy, there are certainly a few companies to choose from who know their stuff, and unfortunately, a great majority who aren't quite there yet. We've spent several years perfecting the art, and even we are learning all the time!
Once you've made your choice, trust them. Agents should provide as much information and detail as they can, as it is ultimately themselves and their vendor that need to be satisfied. But as soon as the shots have been taken, leave it to the experts to work their magic.
Get yourself in the video! Any real estate video specialists should be very experienced dealing with first time nerves. The Visual Domain crew love working with new people and seeing their personality grow and flourish in front of the camera, but most importantly it is an incredibly powerful way to market yourself as well as your listings. Plus, don't we all secretly want to become overnight YouTube stars?
Be sure to make use of your video online. Get it on the major industry portals. Get it on the video sharing sites. Get it on your website to improve Google search engine optimisation (SEO). We have certainly learned a lot of tricks to help agents get their video seen, and are always happy to help get it out to the online world!
Sad to say, but sometimes as film-makers, real estate agents make much better sales people! On camera, they become stars - charismatic, well spoken, professional and likeable. Behind the camera however, well, let's just say we've seen a few DIY jobs that probably wouldn't even make it on Better Homes and Gardens. Something as evocative as video can really do injustice to a good agent, if it's not done properly. When you're selling a home, you don't want to do anything by halves, so enlist the help of experts and you'll be sure to get the results you're after.
For property videos, don't forget to make the house the hero. Ultimately, a good agent is one that can sell property, and that's precisely what property videos aim to do.
While video for real estate is new, exciting, and for some a little bit scary, it's not until you've started using it that you will really see the true benefits come to light. Give it a go - we'd love to help you make your big screen debut!"

Related posts: