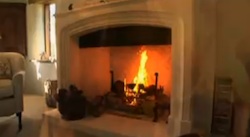 Following on from our five inspirational real estate videos, today we take a look at three more examples that prove property videos can be much more than photo slideshows.
First we have this video from Malcolms, which is the top result for the search "Melbourne real estate" on YouTube:
The best thing about this video is that it shows sellers what this agency can offer with a very simple formula. All Malcolms had to do here was film their auction, edit it down, then add their logo and contact details to the video. They've also included more calls to action in the video description and in the floating link that appears above the video as it plays, increasing the chances of people clicking through to their website.
Next we have this video from Cunninghams, which takes the auction theme to another level:
This video was added to YouTube over a year and a half ago, but it's still appearing as the fourth result for the search "Sydney property" and has attracted over 3,500 views. Viewers will likely be impressed by the editing and use of music, but the best thing about the video is the final explanation on how Cunnighams approaches auctions. The only downside here is that there are no links back to the agency's website in the video description.
Finally, we have this video from New Zealand agency nzbeachfrontproperty.co.nz:
This is a great example for those agents who aren't keen to get in front of the camera or provide their own voice-overs for a video listing. With simple camera work and subtitles, this video tells home hunters enough to get them interested in this luxury property. Those who want to know more just have to click on the video's description to find many more details, and a link to the agency's website has also been included.
Creating video listings like these will take some time and effort, but keep in mind that there are still very few real estate agents who are showcasing properties in this way. Start using video now and you'll quickly move far ahead of the competition.

Related posts: