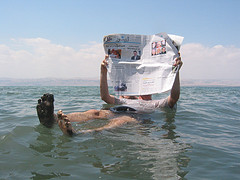 This time last year, we asked the question: is print media advertising dead, or just dying? Now, the latest figures out of the US show the newspaper ad industry is, at the very least, pretty unhealthy.
These new figures from Pew's "State of the News Media 2011″ reveal a number of worrying trends for those in the business of print advertising:
Overall, spending on online advertising – on news and non-news sites – grew 14 percent in 2010.
For the first time, the amount spent on online advertising, which includes all types of web and digital advertising, was bigger than that spent on print advertising.
This growth in online ad spending is expected to continue, with eMarketer projecting rates of increase of 10 percent per year or higher through 2014.
Where were these online ad dollars spent? The graph below shows the distribution, revealing increases across most types of online advertising:
So, do you still turn to the newspaper to advertise your real estate business, or have all your ad dollars now moved online? Let us know your thoughts on this trend in our comments.

Related posts: