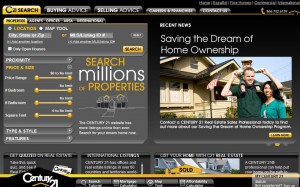 This week at Real Estate Connect in New York, Century 21 Real Estate LLC announced that it is transitioning its television advertising to additional online advertising.
Century 21 Real Estate LLC is the franchisor of the world's largest residential real estate sales organisation.
As a market leader in real estate, all eyes will be on the international company as they spend more in the areas of online display advertising, search engine marketing and partnerships with real estate listing websites.
"Century 21 Real Estate continues to take a leadership position in the industry," said Tom Kunz, president and chief executive officer of Century 21 Real Estate, in a statement issued by the company.
"We were the first national real estate franchise on television and now we continue our forward-looking market leadership as we enhance our online advertising. In 2008, leads resulting from online advertising increased by over 237% and our cost per lead decreased by 62%, year over year. We are confident that increased online advertising will benefit our brokers, agents and most importantly, the consumer."
Century 21 Real Estate LLC provides comprehensive training, management, administrative and marketing support for the CENTURY 21 System, made up of over 8,500 independently owned and operated franchised broker offices in 64 countries and territories worldwide.
The company is a subsidiary of Realogy Corporation, a global provider of real estate and relocation services.

Related posts: