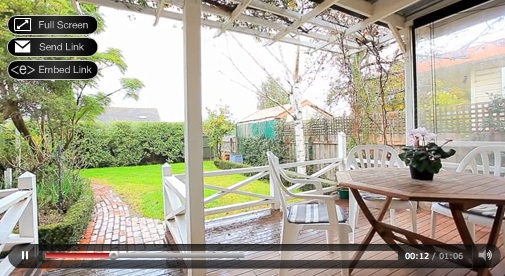 We've talked before about easy fixes to take video listings from amateur to attention-grabbing. Today, we thought we'd take a look at a good example from Australia.

We picked up on this listing from a tweet by imageination.tv, an Australian company covering everything from real estate video to photography, floor plans, and copywriting.
One of their clients is Compton & Green, who came up with this video to showcase a house in Melbourne.
Even if you're not interested in using a professional video service, there are a few tips you can take away from this listing:
Shorter is sweeter. What this video does well is communicate the property's best features in a very short time - just over one minute, in fact. You can afford to go longer, of course, but remember that you'll be losing viewers more quickly the more minutes you add.
Mention the surroundings. The great thing about this video listing is that it doesn't just focus on the property itself. We could always plug the address into Google Maps and Street View, but the views of the park and local shops give an even better sense of what the suburb has to offer.
Don't leave them wondering. House hunters viewing this listing might think the property looks fantastic, but they are going to need a few more details - bedroom and bathroom numbers, for example - before attending that auction. Leaving details out might be a conscious choice to encourage people to pick up the phone and call the agent, but our advice would be to always include these key facts.

Related posts: